Sweetcorn is one of my favourite foods, usually gently steamed and dripping in butter, but this traditional street food method of preparation is fast becoming a new favourite. Amped up with crushed dried chilli, coriander and zingy fresh parmigiano, then roasted in the oven, this'll become a staple in your home, guaranteed. For an even more authentic flavour, consider grilling this wrapped in foil on the barbecue – a real summer treat.
This recipe was created for the Benito's Hat & Discovery Foods cook-off at The Waitrose Cookery School.
Ingredients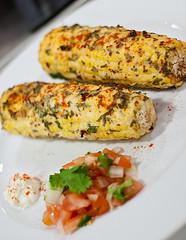 2 whole, fresh corn cobs, split in half
4-5 tbsps mayonnaise or sour cream
1 large dried ancho chilli, de-seeded
115 g parmigiano reggiano, grated
Handful of fresh coriander, chopped finely
Salt & freshly ground black pepper
Paprika, to finish
Special equipment:
Mortar & pestle
Method
1. Pre-heat oven to 200 degrees C.
2. Crush the ancho chilli into small pieces in the mortar and pestle (be sure not to crush to a powder; if you don't have a mortar and pestle you can just crush and chop it finely with a sharp knife), then combine with the grated parmesan and chopped coriander and toss well. Make sure you wash your hands thoroughly whenever dealing with chillies, especially dried! You may want to wear gloves if you have especially sensitive skin.
3. Using your hands, completely coat the corn cobs in the mayonnaise, then roll in the parmesan, coriander and chilli mixture. Place on a baking tray, season with the salt and black pepper, then place in the oven.
4. Roast for 25-30 mins, remove from the oven and sprinkle with the paprika to finish. Serve as a starter, a side or a snack and enjoy.
(Serves 4)