Creamed Norwegian Cod with Garlic on Sourdough Toast
Recipe created by Mitch Tonks, ambassador for the Norwegian Seafood Council
Salted Norwegian cod is delicious. Traditionally the salting process removes moisture in readiness for drying and preservation. For this recipe we use the salting to change the texture and flavour of the fish.
This dish is found all over the north of Italy, a slightly different version can be sampled in the South of France where it is called Brandade. The dish needs to be started a few days in advance but the process is simple. Serve spread on toast and served with cornichons and pickles.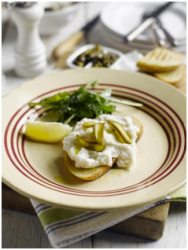 Serves 4
You will need 
2 Norwegian cod fillets pin-boned and skinned
 1 clove garlic
200ml vegetable oil
Olive oil
Ground white pepper to season
Water
Teaspoon finely chopped parsley
100g fine or rock salt
1 lemon
2 handfuls of rocket
4 thick slices of sourdough or other bread
To make
Start the dish a few days in advance. Lay the fish in a plastic container and sprinkle the salt over the fish, after 24 hours you will notice a fair bit of liquid that the salt will have extracted from the cod, this is what we want. Remove, wash it well and soak in cold water in the fridge for a further 24 hours, then remove and dry.
Steam the fish for 6-7 minutes until cooked then place in a food processor with the garlic. Pulse it to a paste, then, with the motor running gently add the vegetable oil in a steady stream as if making mayonnaise, When it becomes thick and quite stodgy (you may not need all the oil) add enough water with the motor still running to "let it down" until it becomes creamy.
Season with white pepper. Toast the bread then spread the Norwegian cod thickly on top, sprinkle with the parsley, a little lemon juice & olive oil. Dress the rocket with lemon juice and olive oil and serve alongside.