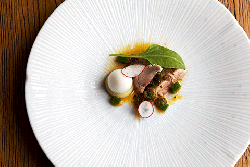 This is a beautifully simple dish that is classy and grown up. It sings autumn! Perfect as a Starter or as Main Course.
From  Richard Bainbridge,  Richard was formerly head chef at the Michelin starred Morston Hall and has just opened his first solo venture, Benedicts in Norwich
Serves 4
1 x Venison Loin (trimmed and ready for roasting) 50 gr Salted Butter
4 x Slices of Sour Dough 200 gr British Girolles
1 Small Shallot finely chopped 10 gr Flat Leaf Parsley, chopped 30 gr 90% Bitter Dark Chocolate Rapeseed Oil for frying
Pre heat the oven to 180c
Place a small frying pan onto a high heat. Lightly season the venison loin with salt. Once the pan is hot add a splash of rapeseed oil to the pan and carefully place the lion into the hot pan. Turn the venison loin round slowly until well coloured all over. This should take about 5 mins. Then place in oven for 8mins turning every 2mins. Once cooked remove and allow to rest for at least 10mins before serving.
Place a frying pan on a medium heat and add the butter, once butter is melted and starting to foam add the sour dough and colour on both sides until a lovely golden colour. Season lightly with sea salt.
Place a small pan on a high heat and line with rapeseed oil, add the Girolles and season with a little salt after about 2mins add the chopped shallots and parsley, remove from the heat and strain on kitchen towel. Check seasoning and keep warm until ready to serve.
To serve:
Place the sour dough in the middle of the plate, add Girolles on top of the bread, slice the venison and place on top of the mushrooms. Just before serving grate your dark bitter chocolate on top.
Enjoy!