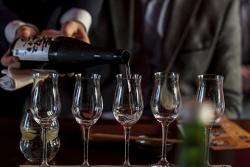 This Thursday 1 October is World Sake Day and to celebrate Sushisamba London has created a range of sake inspired dishes and cocktails.
World Sake Day originated in Japan and traditionally marked the starting date for sake production in the country. It is now globally recognised and gives a chance for consumers to learn more about this versatile beverage. Sushisamba's dishes have been created by Executive Chef Claudio Cardoso, who says  "Sake is still an unknown product for the western countries so to assist the introduction to this culture why not add sake to food that people consume on a day to day basis? The potential, the flavours and aromas are amazing to add to a culinary environment."
The Seabass seviche with seabass, yuzu sake, orange, yuzu pearls, maize, moradao and nasturtium is a clever balance of flavours where the sake plays with the subtle flavours of the seabass without masking them. For dessert there will be SAKE SORBET- quince sake sorbet, hazelnut, fig purée .
Richard Woods, head of cocktail creation at Samba Brands has created cocktails that make sake more accessible to the drinker who could be unsure about it or has only ever had it warm Woods says. "For me sake is a complex spirit yet it has a delicate flavour that comes in different intensities depending on the style. I have created cocktails that highlight the star qualities of the spirit but also its versatility."
Sake-infused cocktails from £14 include the ICHIJIKU CLOUD – Enoki Shuzo Sake, fig, fino sherry and a blend of chocolate and soy bitters. Stirred with ice until icy cold and served 'up' and also the SAKE SPRITZ -Takashimizu Sake, dry cacao liqueur, lemon juice and a cherry and cacao bitters blend. Served over ice and spritzed with prosecco.
Through out the evening, Geisha dressed in traditional garb will be serving complimentary sake samples to guests and teaching them more about the production and different types of sake. They will also do a traditional Kimono performance.