My adoration for this sea creature has yet again surfaced in another recipe. This time I present you with a traditional dish from the Algarve province of Portugal. This is utterly delicious as a light lunch or dinner. I used spring onions as a topping instead of the usual parsley. Coriander works a treat too.
Polvo à Lagareiro/Octopus "Lagareiro" style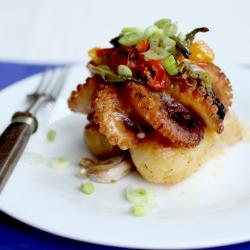 Ingredients (serves 4)
Ingredients:
1 octopus of 1kg of weight
3 peppers (1 yellow, 1 red and 1 green)
1 red onion
1 bay leaf
500 gr of new potatoes
salt & pepper
3 cloves of garlic
olive oil
1 tbsp of red wine vinegar
sliced spring onions to sprinkle
Preparation:
Pre-heat the oven at 190 ºC.
In a pan, place the octopus, the bay leaf and the red onion and covere with water. Cook for 40 minutes till the octopus is tender and pink. Drain the water and set aside.
Chop the peppers in slices and peel the potatoes. Arrange them in a baking dish with the octopus in the middle. Add in the garlic cloves with skin on, season with salt & pepper and drizzle with a good measure of olive oil. Bake in the oven for 40 minutes, till the potatoes are golden and the octopus crispy. Remove from the oven and serve immediately.