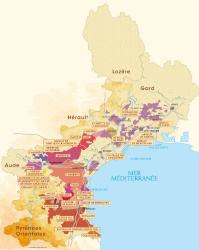 It has to be said and perhaps many of you will know already, I'm not a lover of going to wine tastings. I find that moving immediately from tasting one wine to another makes it difficult for you to get the nuances and fine notes that each wine has. But having been invited to the Languedoc Grands Crus tasting I thought 'well, there can only be about 30 wines, so and I can take my time in getting around all or most of them, I'll go'. How wrong was I, there were some 60 wines and I had left myself just two hours to work my way through them – a major challenge. And yes, I imagine some of you will be scoffing and thinking 'poor you' but actually, it's hard work trying to do all of them justice. Obviously I won't write about all of the wines I tasted but you have to do your best to get around as many as possible in order to find those gems to highlight. Of course, I rose to that challenge though I did skip a number of the wines, that were clearly not available in this country, to lighten my load.
So having arrived at La Maison du Languedoc-Rousillon in London's Cavendish Square, picked up my name tag and list of wines being shown, I began the daunting task. First to catch my eye, well taste buds really, was the Chateau les Ollieux Romanis Atal Sia 2008 which had lovely blackcurrant notes in its bouquet and as you let it wash around the mouth there's big fruit, principally soft blackcurrant and some sweet acidity with a good length to it. Retailing via www.ewwines.co.uk at £18.99 this was a delightful wine. The next was Clos Sorian 2008 which had great deep forest fruits in its nose and these came through well on the palate, particularly blackberry. It's a medium bodied wine with some acidity, medium tannins and a touch of peppery heat in its length. Great value I thought, retailing at £9.01 though www.wineandco.co.uk .
The Chateau de Camplazens premium 2008 had big blackcurrant notes in its aroma as well as softer forest fruits and a hint of vanilla. On the palate there was great tangy blackcurrant. It's a pleasantly acidic medium bodied wine with medium plus tannins some peppery heat and great blackcurrant in its length. You can find this at www.barrelsandbottles.co.uk at £19.08 per bottle. The Domaine de Montcalmes 2008 had a good forest fruit nose to it. As you taste it you get cherry and forest fruits with some sharp acidity. This is a fresh tasting red that has medium body and tannins and some nice length on the palate. Available through www.thewinesociety.com at £19 per bottle. The Domaine le Clos du Serres, Les Maros 2009 had lovely red fruits in its nose, raspberry hit me in particular. On the palate raspberry and fresh red summer fruits came alive. This is a really fresh red with light to medium tannins. Available through www.stonevine.co.uk at £12.50 per bottle. The La Croix Chaptal, Cuvee Charles 2008 had a sharp blackcurrant nose to it. As you let it reach every part of your mouth you get a soft fruity sweetness with some acidity. There's blackcurrant with rich red fruits in the background. This is quite a complex wine with medium plus tannins and good length. Retailing through www.aldebywines.co.uk the 2007 vintage on their site, which is made of the same grapes but with different percentages of each, sells for £14.99 per bottle.
Of all the wines I tasted two stood out for me; the Mas Cal Demoura L'Infidele 2008 and the Domaine de Mouscaillo MC et P fort 2008. The Mas Cal Demoura L'Infidele 2008 had good forest fruit aromas, which absolutely came through on the palate. There were deep blackberry and blackcurrant in its fruity mouthful with some great acidity. This was a very good medium bodied wine with medium tannins. One to seek out at www.terroirlanguedoc.co.uk at £14.95 a bottle and at www.everywine.co.uk at £215 per case of 12. The Domaine de Mouscaillo MC et P fort 2008, a Chardonnay, had fresh yellow fruits in its aroma. As you washed it around the mouth there were good vibrant peach and apricot as well as a citrusy tang. This is a white with body to it, yet a great freshness on the palate. Also available from everywine at £211.65 per case of 12.
So, having slogged my way around these wines from Languedoc, tongue rather black from all the red wine swishing and fingers purple from the inevitable dribbles down the side of the glass (you only get one for the whole tasting, so it's a messy business!) I was actually quite pleased that I had gone. I got to taste some lovely wines. Now it's up to you, if you feel inspired, check them out.