Tenderstem's easy and relaxed dish that has a bit of everything for everyone.
Serves: 4
Preparation time: 10 minutes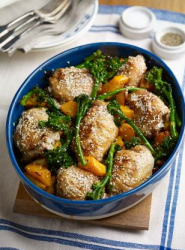 Cooking time: 50 minutes
You will need:
8 chicken thighs
1kg butternut squash, peeled & cut into 3cm chunks
1 bulb garlic, broken into cloves, unpeeled
2 tbsp olive or rapeseed oil
2 lemons cut into quarters
240g Tenderstem
2 tbsp runny honey
2 tbsp sesame seeds
Method:
Preheat the oven to 180°C.
Lay the chicken in a large roasting tin and scatter the butternut squash and garlic cloves around it. Drizzle over the oil and squeeze the juice from the lemon quarters, tucking the empty shells in and around the chicken and squash.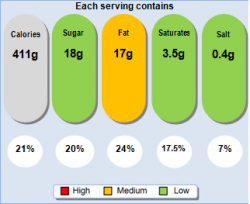 Roast in the oven for 40 minutes, until the chicken is crisp and the squash in soft and lightly caramelised. If your chicken thighs are particularly large you may need to increase cooking by 10 minutes.
Blanch the Tenderstem in boiling water for 2 minutes, drain and set aside.
Remove the tray from the oven, stir through the blanched Tenderstem, coating it well in the lemony juices. Drizzle the honey all over and sprinkle on the sesame seeds.
Return to the oven for a further 10 minutes until the chicken is sticky and golden. Serve immediately with plenty of rice and perhaps a little soy sauce.