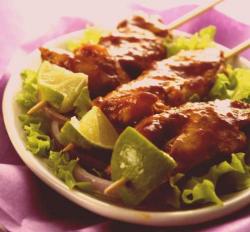 Everyone loves a chicken skewer and the beauty is they can be cooked indoors or out. And using a ready-made sauce is the solution for speed. Simply marinade for an hour when you get home then fire up the grill.
For an authentic Fusion & Asian cooking experience in your own home, you can buy WORLDFOODS sauces direct
All Foodepedia readers can take advantage of an EXCLUSIVE free shipping code on all products, please use: V2T9QF63
Ingredients
600g chicken fillets, cut into strips
WORLDFOODS THAI PANANG CURRY COOKING SAUCE
Oil for basting
Bamboo skewers
Cooking Instruction
1. Soak bamboo skewers in water for 30 minutes to prevent it from burning.
2. Marinate chicken fillets with WORLDFOODS THAI PANANG CURRY COOKING SAUCE in the refrigerator for at least an hour.
3. Thread chicken fillets onto pre-soaked bamboo skewers.
4. Cook over hot coals or pre-heated grill for 5-10 minutes, turning over occasionally.
5. Baste with a little oil to keep meat moist. 6. Serve with a fresh green salad on the side
Makes approximately 25 skewers