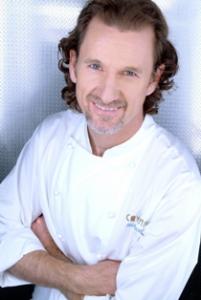 Why not celebrate St Patrick's Day with Paul Rankin's Irish Stew?
Ready Steady Cook stalwart, owner of the successful Belfast-based restaurant Cayenne and the man behind a successful range of products in your local supermarket, has shared with us his exclusive recipe for Irish Stew. Paul's recipe is a hearty concoction filled with meat, potatoes and vegetables – plus a few little twists of his own.
INGREDIENTS:
Serves 4
900g boneless shoulder of lamb (or neck)
1.2 litres water
Salt
225g potatoes, peeled and cut into coarse chunks
225g carrots, peeled and coarsely sliced
225g leeks, cut into coarse slices
1225g baby onions, peeled
2 sprigs of fresh thyme
1 cup fresh parsley leaves (blanched)
250ml double cream
1tblsp unsalted butter
METHOD:
1. Trim and cube the lamb. Discard the fatty film and place the meat into a heavy casserole with the water and a little salt. Bring to the boil and immediately skim off the surface of scum and fat. Simmer for 30 minutes.
2. Add half of the potatoes. Simmer for another 30 minutes, then stir up the pot quite vigorously to break up the potatoes.
3. Add the rest of the vegetables and the thyme.
4. Simmer for approximately another 30 minutes, or until the meat and vegetables are all tender.
5. Add the cream, butter and parsley. Reheat quickly and serve.