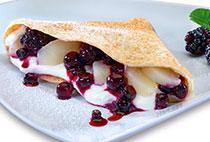 Fruity pancakes using Philadelphia Light, to give a lighter, healthier pancake.
Ingredients:
150 g Philadelphia Light, softened
1 tbsp icing sugar, to sweeten
400 g tinned pear slices (in juice), drained
150 g mixed frozen berries, defrosted
6 plain pancakes
Ground cinnamon or icing sugar, to dust
Method:
1. Mix together the Philly and icing sugar. Place the berries and pear slices in separate pans and heat gently until warmed through.
2. Heat the pancakes (as directed on the pack) and fold in half and then in half again to form triangles.
3. Fill with the Philly mixture and top with the warm pear and berries. Place on a serving plate and dust with a little ground cinnamon or icing sugar to serve.