Leading UK Spanish chef Jose Pizarro has created a mouth-watering little recipe for Easter. Using spring lamb, the recipe combines olives, mint, garlic, potatoes and lots of other gorgeous things to create a really delicious Easter feast or simple tapas with friends.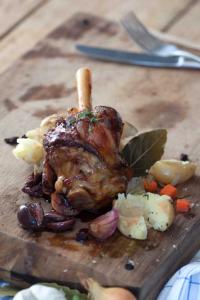 Braised Lamb Shanks with Baby Potatoes, Black Olives and Mint
Lamb shanks are tasty, seasonal and economical; this recipe makes an elegant tapa too.
Photo Vladimir Studenic
Serves 4
2 lamb shanks approx
salt and pepper
3 tablespoons extra virgin olive oil
1 large onion, chopped
2 garlic cloves, chopped
2 medium carrots, diced
600 ml vegetable or chicken stock
1 bay leaf
20 Aragon black olives or kalamata, pitted
200g baby potatoes, scraped clean but not peeled
rind from half lemon
1 tablespoon lemon juice
2 tablespoons chopped mint
Extra virgin olive oil for drizzling
Pat the shanks dry with some kitchen paper, then season with salt and pepper. Heat the olive oil in a heavy bottomed casserole over a moderate heat, and brown the lamb on all sides. Put to one side and keep warm while you fry the onions and garlic. Once they are golden after about 5 minutes or so, add the carrots and cook for further 3 minutes. Return the shanks to the casserole, along with the bay leaf, and add the stock. Cover and simmer gently for around two hours: the meat should almost fall off the bone.
About 10 minutes before the shanks are ready, add the potatoes, olives, lemon rind and juice, and give everything a good stir. Adjust the seasoning if necessary.
Divide between 2 warmed plates, add the mint, and lastly drizzle a little olive oil over each serving.