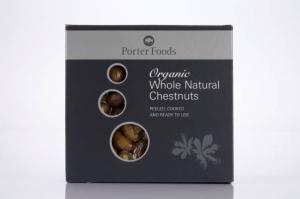 'Chestnuts roasting on an open fire'. Yes and third degree finger burns trying to peel the buggers later.
We actually have a lot of wild chestnuts here in the UK. It's hard to get into their viciously spiny cases but when I was a lad I remember bringing sacks of them home from the woods behind our house. And no, this wasn't pre war this was the late 60's
Scandalously we don't do much with chestnuts in this country. In France the marron is used extensively in all manner of dishes and all year round as tinned chestnuts are always available.
In the UK we look more seriously at chestnuts at Christmas. They are delicious added to stuffings, adding bulk and absorbing juices. They're good too cooked with the much maligned sprout, their sweet nuttiness goes well with a properly cooked sprout. Add some pancetta and you've got a dish you could almost eat on its own.
Porter Foods sent us round a pack of their Organic Chestnuts from Galicia Spain and I was happy to try them even though it wasn't actually Xmas. Galicia is home to so much good produce, particularly shellfish, and chestnuts there are rightly regarded as a delicacy.
The chestnuts are free from artificial colours and preservatives and produced using the latest technology respecting traditional growing methods. Shelled, cooked and packed in vacuum bags, they have a long shelf life.
I cooked them with sprouts, and they were as expected very good. Even better I made a chestnut and parsnip 'hummus' as well as crumbling them into a loaf mix which produced bread I would have been happy to eat if served to me in a restaurant.
Best of all was mashing them up with goat's cheese, ricotta, parmesan, parsley oniona dn apples and making a stuffing for ravioli. Seriously tasty.
Whole Organic Chestnuts (peeled and cooked) 200g (RRP £2.65)
Porter Foods Chestnuts are available to purchase in Waitrose, Ocado, Budgens, Whole Foods Market, a number of delis and also online at www.porterfoods.co.uk and the Virtual Farmers Market: www.vfmuk.com
CHESTNUT SOUP WITH MADEIRA AND PANCETTA
1 Onion
1 celery heart
2 carrots
1 parsnip
50g unsalted butter
500g Porter Foods Vacuum Packed Chestnuts
150ml madeira
1.2 litres Chicken stock
sea salt and black pepper
To Finish
200g diced Pancetta
1 tbsp olive oil
Peel and chop the onion, trim, peel and slice the celery, carrots and parsnip. Melt the butter in a large saucepan over a medium heat, add the onion, celery, carrot and parsnip and fry for about 10 minutes, stirring frequently until softened and golden.
Add the Porter Foods Chestnuts and cook for a minute or two longer, then add the madeira and simmer until well reduced. Pour in the stock, add some seasoning, bring to the boil and simmer for 15 mins until the vegetables are tender. Puree the soup in a blender, then return to the saucepan and check seasoning.
Heat the oil in a large non-stick frying pan over a medium heat and fry the pancetta until golden and caramelised. Drain on kitchen paper.
Serve the hot soup with some of the crispy pancetta in the centre and chopped parsley.
CHOCOLATE & CHUNKY NUT CAKE
A delicious chocolate cake, using Porters Chestnuts. It's very rich so serve small slices with whipped cream. Add a little of Vanilla Bean Paste to the cream for even more indulgence!
175g unsalted butter
175g caster sugar
325g dark chocolate
150g Porter Foods Vacuum Packed Chestnuts broken into chunks
50g walnut halves
50g blanched almonds
75g hazelnuts
5 large eggs, separated
grated rind of 1 large orange
Half tsp ground cinnamon
50g ground almonds
icing sugar for dusting
Put the butter and sugar in a bowl of simmering water to melt. Add the chocolate, broken into pieces. Let it cool slightly
Toast all the nuts (apart from the chestnuts) in a dry pan and break them up roughly. Add the Porter Foods Chestnuts.
Add to the chocolate the egg yolks, nuts, orange rind and cinnamon. Beat the egg whites until stiff. Loosen the mixture by folding in one large spoonful of egg white. Fold in the rest with the ground almonds. Pour into a buttered 20cm spring-form tin and back for 45 mins at 180C/350F/gas mark 4.
Leave to cool for 20 mins and remove from tin. Dust with icing sugar and serve at room