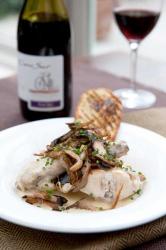 If you've been hard at work growing your own veg this year, you'll be glad to know that Cono Sur Wines has made the task of choosing a wine that brings out the best in your home-grown ingredients a little easier.
The sustainable Chilean winery has teamed up with top chef and author of 'The Allotment Chef' Paul Merrett to investigate which wines match the flavours and textures of each season's produce, and for autumn – a season typified by savoury, earthy and gamey flavours – one wine varietal was a clear winner: Pinot Noir. Videos of the workshop can seen at www.youtube.com/user/cswinery.
Sampling a range of dishes from wild mushroom risotto to roasted butternut squash with honey and thyme, along with gamey meats such as venison, Cono Sur's winemaker Matias Ríos and his panel of experts concluded that Pinot Noir really is the best wine for complementing the dusky, creamy and smoky flavours of autumn. As Master of Wine Peter Richards commented: 'for me, autumn is all about Pinot Noir. It works brilliantly well with a lot of the food that autumn has to offer, especially the rich, earthiness of game and savoury mushroom flavours."
So, with such an abundance of flavours and textures this season, now really is the perfect time to serve Cono Sur's range of Pinot Noirs as the nights begin to draw in. To give you a helping hand, Paul Merrett has created an exclusive recipe of creamy garlic rabbit casserole, which matches perfectly with Cono Sur Pinot Noir (Booths, Morrisons, Musgrave, Sainsbury's, Tesco.com, yourfavouritewines.com £7.49). Displaying rich fruit notes of cherry, strawberry and plum, enhanced by subtle smoky hints, Cono Sur Pinot Noir has a light body and smooth texture, which can't be beaten for matching with game, especially the lean and environmentally-friendly rabbit.

Ingredients
Meat from shoulders, hind legs, hind thighs and back of large farmed rabbit, cut into chunks
1 dessertspoon of flour
1 onion, peeled and roughly chopped
1 stick of celery, chopped into 2cm dice
A few white peppercorns
2 whole heads of garlic
6 fresh sage leaves
Sprig of fresh thyme
300ml white wine
1 litre chicken stock
600ml double cream
200g mushrooms
Knob of butter
1 tablespoon of chopped chives
Method
1. Heat a little vegetable oil in a casserole pot and meanwhile, toss the rabbit chunks into the flour and in batches, add to the hot pot and allow them to slowly caramelise. When all the rabbit is caramelised, leave it to one side.
2. Throw the leek, onion, celery, peppercorns, head of garlic (cut in half horizontally), the sage and the thyme into the pot and soften them for about 5 minutes.
3. Add the wine and allow it to boil, then reduce by half.
4. Next, add the stock and the caramelised rabbit. The stock should just cover the rabbit and needs to simmer only very gently. After about an hour, the rabbit will be cooked, at which point remove the pieces and leave them covered in a warm spot.
5. Turn up the heat and let the stock boil rapidly for 5 minutes, then add the double cream and simmer for 10 -12 minutes. In this time the creamy sauce should reduce and thicken slightly. Pass the sauce through a fine strainer and pour into a clean pot. Put the rabbit back in the sauce and bring to a simmer for up to 10 minutes
6. Meanwhile, peel and crush some cloves from the remaining head of garlic to a fine paste and start by adding about a teaspoon to the sauce to give it a garlicky kick.
7. Finally chop the mushrooms into strips, then fry in butter for 5 minutes until caramelised. Scatter them over the casserole together with the chopped chives and serve.
Wine Recommendation
Cono Sur Pinot Noir is the only wine to drink with hearty, home-cooked dishes this autumn. With rich, fruit notes of cherry, raspberry, plum and strawberry enhanced by subtle smoked hints, Cono Sur Pinot Noir has fine tannins, giving it a great texture in the mouth. Balanced and light-bodied in style, this is a wine with personality and elegance that can't be beaten for matching with rabbit and game.