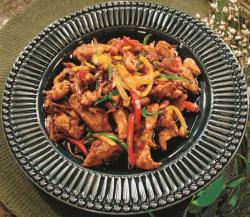 Chinese New Year (31st January) is almost upon us and to celebrate Viking River Cruises, along with some inspiration from top chef Martin Yan, will be serving the below delicious recipes to guests on board the Viking Emerald as they travel down the Yangtze.
MARTIN YAN'S THREE-ALARM FIRECRACKER CHICKEN
With fresh jalapeño chili, dried red chilies and chili garlic sauce — this dish is hot and spicy! In China the dried chilies are typically eaten, but unless you like very hot food, you will probably want to remove them before serving.
Ingredients:
Marinade:
Two teaspoons soy sauce 
One teaspoon dark soy sauce 
One teaspoon cornstarch 
One pound boneless, skinless chicken breasts 
Sauce: 
Five and a half tablespoons of ketchup 
60ml of chicken broth 
One tablespoon chili garlic sauce 
One teaspoon sugar 
One tablespoon vegetable oil 
One fresh jalapeño chili, cut into thin strips 
Eight small dried red chilies 
One red bell pepper, julienned 
One-half medium onion, thinly sliced
Serves 4 people
Directions:
Combine marinade ingredients in a bowl. Rinse chicken and pat dry then cut crosswise into half-inch wide strips. Place in marinade; and stir to coat. Let stand for 10 minutes. Combine sauce ingredients in a small bowl; mix well. Place stir-fry pan over high heat until hot. Add oil, swirling to coat sides. Add fresh and dried chilies; cook, stirring, until dried chilies begin to brown, about 15 seconds. Add chicken, bell pepper and onion; stir-fry until chicken is cooked through and no longer pink in centre, about 2 – 3 minutes. Add sauce and bring to a boil. Stir to evenly coat chicken and serve.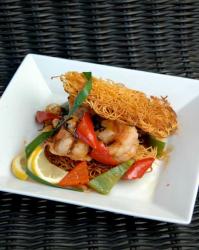 MARTIN YAN'S SHRIMP WITH PAN-FRIED NOODLES
According to Celebrity Chef Martin Yan, the key to preparing the perfect crispy noodle pancake is the swirling of the noodle in the pan, which keeps the noodles from sticking. They are a great accompaniment to a variety of stir-fry dishes such as black pepper beef, chicken and a variety of sautéed vegetables.
Ingredients:
Noodle Pancakes: 
450grams fresh Chinese egg noodles 
One teaspoon sesame oil 
Two tablespoons vegetable oil 
Shrimp:  
Sauce 
Eight tablespoons of ketchup 
125ml of water 
Two tablespoons sweet chili sauce 
One and one-half tablespoons curry powder 
One tablespoon cooking oil 
One tablespoon lemongrass, minced 
Two cloves garlic, minced 
One teaspoon ginger, minced 
Two green onions, cut into 2″ pieces 
One-half each green and red bell peppers, cut into small chunks 
One pound medium raw shrimp, shelled and deveined 
One tablespoon sesame oil
Serves 4 people
Directions:
Noodle Pancakes:
Heat a wide nonstick frying pan over medium heat; swirl one tablespoon of vegetable oil around to coat. Spread half of the noodles evenly in pan. Cook about 5 minutes on each side, until noodles are golden brown. Swirl pan a few times to prevent noodles from sticking. Keep warm in a 200°F oven and repeat with remaining noodles. Make 2 noodle pancakes.
Shrimp:
Combine all sauce ingredients in a small bowl and mix well. Heat a large stir-fry pan over high heat; swirl vegetable oil around to coat. Add lemongrass, garlic and ginger, stirring 15 seconds, until fragrant. Add bell peppers and green onions; stir-fry for 1 minute.
Add shrimp and stir-fry for about 2 minutes, until they begin to curl and turn pink. Add sauce and cook until it boils and thickens slightly. Add sesame oil and toss to coat. Serve over the pan fried noodles.
For more information about Viking Cruises and to learn about their river cruise itineraries in China visit www.vikingcruises.co.uk