Feeling the cold snap? Warm up with a deliciously comforting plate of risotto. The beauty behind one of Italy's most famous dishes is its versatility and, contrary to popular belief, its simplicity. It only takes 20 minutes to make and can be made with only a few ingredients….Use the freshest ingredients to create a seasonal treat or worried about waste? It's the perfect dish to use up your leftovers.
Riso Gallo is one of the largest rice producers in Europe and one of the oldest rice-growing concerns in Italy, producing high quality risotto rice for over six generations. The extensive range includes the three best known varieties, Aroborio, Vialone Nano and Carnaroli as well as a Risotto Pronto which is a 12 minute version, for those on the go!
To create a traditional Italian risotto all you need is Riso Gallo risotto rice, an onion and garlic, good quality stock, a glass or white wine and your choice of ingredients ….here's a simple recipe to get started with – leftover ham/bacon and frozen peas…. Enjoy!
Serves 4
175g/6oz pancetta, chopped or lardons or leftover ham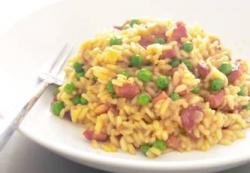 2 tbsp olive oil
1 onion, peeled and finely chopped
2 cloves garlic, peeled and finely chopped
225g/8oz Riso Gallo Carnaroli Risotto Rice
1/2 wineglass dry white wine
900ml/1 1/2pt chicken stock
salt (if needed) and freshly ground black pepper
175g/6oz defrosted frozen peas
Place chopped bacon in a non stick pan over medium heat and cook until crisp. Drain on kitchen paper. Reserve.
Heat oil in a pan and gently fry onion and garlic until softened but not brown. Add rice and stir around to coat well in the mix. Pour over wine and bubble until absorbed, stirring with a wooden spoon.
Add a ladleful of stock and continue stirring over medium heat until absorbed. Add pancetta to pan with next ladleful and continue stirring as before until absorbed. Season with freshly ground black pepper – and salt if necessary (pancetta is salty).
Continue adding stock (you may not need it all) until rice is just tender and creamy. Stir in peas and add final ladle of stock, stirring until absorbed and peas are cooked.
Divide between 4 warmed bowls and serve.