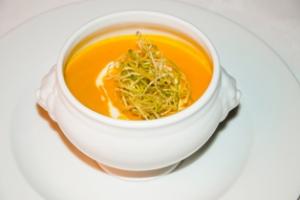 Serves 8
Ingredients:
1 Medium sized Uchi Kuri Squash
570ml / 1 Pint Good Vegetable stock
½ White Onion, finely chopped
2 Sticks of Celery, finely chopped
3 Cloves of Garlic, finely chopped
2 Handfuls of Sage
8 Large Amaretto biscuits
4oz / 100g Butter
1 Glass of Dry White Wine
Winter squash are streets ahead of Halloween pumpkins when it comes to eating quality, looks too. First cultivated by Native Americans, winter squash are now found around the world and come in a kaleidoscope of colours and shapes. Besides their stunning looks they provide a versatile and delicious food sauce ultra rich in Vitamin A from late summer harvest through to the first flickers of spring. Stored carefully in a cool but frost proof spot. Yields can be huge and husbandry is simple. Plant in June, water well and keep weed free. The fruits explode on the vines some time in August. The brilliant red Uchi Kuri, or onion squash, from Japan with its colourful hues are a delight even before it hits the pan, and its flesh always results in highly coloured dishes.
Method:
Cut the squash into 8 even segments, scrape out the seeds, and place on a roasting tray. Drizzle with a little olive oil and season with salt & pepper. Cook in the oven at 180Ëšc / gas mark 4 until tender and easily pierced with a sharp knife.
Whilst the squash is roasting, gently fry the finely chopped onion, celery and garlic until softened, add the white wine and reduce by half.
When the squash is cooked, scrape the flesh away from the skin and add to the onion mix and the vegetable stock, bring to the boil and simmer for 5 minutes. Finally add the sage and then puree the mixture using a stick blender or jug blender. Adjust the seasoning, pour into individual bowls and crush an amaretto biscuit onto each one.