Valentine Warner's steak tartare with Cracked Black Pepper Ryvita Crispbread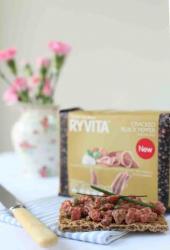 Ingredients
4 Ryvita Cracked Black Pepper Crispbread
100g fillet steak
2 tsp baby capers, rinsed and drained
1tbs chives, very finely chopped (as small as a mosquito's bracelets)
1½ tsp tomato ketchup
Good dash of Worcestershire sauce
½ tsp Dijon mustard
½ tsp red wine vinegar
¼ tsp flaked sea salt
1-2 tbsp extra virgin olive oil
Method
1. Chop the fillet steak very finely with a knife. Do not chop it in a blender as the meat will become too smooth.
2. Put the chopped beef in a bowl then add all the remaining ingredients and mix together well with a fork.
3. Taste the mixture and adjust the seasoning with a little more salt or a drop of vinegar should you so wish.
4. Divide into four press, neatly and evenly, over the Ryvita. Serve immediately.
Valentine Warner's new potato and broad bean salad on Original Ryvita Crispbread
Serves 4
Ingredients
4 Ryvita Original Crispbread
75g small new potatoes, washed
50g fresh young broad beans, podded weight
4 quails eggs (optional)
2 small spring onions, cleaned and sliced medium fine, diagonally
1 clove good garlic, very finely chopped
2 ½ tbs extra virgin olive oil
Zest of ¼ a lemon, finely grated
2-3tsp fresh lemon juice
4 salted brown anchovy fillets in oil, very finely chopped
Black pepper
A few leaves of fresh mint or tarragon, torn small
Method
1. In a very small pan cover the quails eggs in cold water and bring to the boil. Once boiling leave the eggs there for 30 seconds then take the pan off the hob and allow the eggs to cool in the water.
2. In another pan cover the potatoes in cold water and bring them to the boil. Cook them for 8-10 minutes or until tender. Remove them from the pan with a slotted spoon then …
3. Drop in the podded beans. Cook them for no longer than three minutes. Drain them and refresh in cold water before draining again.
4. Peel the shells from the beans to reveal their bright colour and drop them in a mixing bowl. If you can't be bothered to peel them, this is ok!
5. Finely slice the potatoes, being careful not to turn them into mash. Finely slice the spring onions, anchovy and garlic. Peel the eggs and roughly chop them. Put everything into a mixing bowl. Pour over the olive oil, lemon juice and zest followed by a grind of black pepper. Very gently toss everything together taking care not to over mix it all. Taste the seasoning. The anchovy should salt the salad nicely but you may still want to add salt.
6. D6. Divide the salad over the crispbread and scatter over a little torn fresh mint or tarragon.
Valentine Warner's Ryvita Sunflower Seed & Oats Crispbread crumble
Serves 4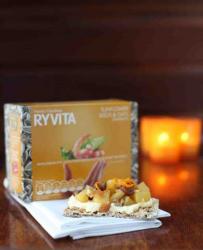 Ingredients
4 Ryvita Sunflower Seeds & Oats Crispbread
2 small coxes apples, peeled cored and roughly chopped small
3 tbs dark runny honey
1tbs lemon juice
3tbs sultanas
1 small thumb ginger, finely chopped
5 tbs water
6 tbs clotted cream
6 dates, stoned and roughly chopped
8 walnuts (optional), roughly chopped
Small amount of orange zest, finely grated
Method
1. Put the apples in a small pan with the water, honey, ginger, lemon juice and sultanas. Bring to a simmer and cook for about 12 minutes until any obvious watery element has evaporated and the apples are stewed and tender. Add a splash of extra water while cooking if needs be. Allow the apple mixture to cool.
2. When the apple is still faintly warm spread one and a half tablespoons of clotted cream on each crispbread. Cover with a layer of the apple mixture, scatter over a few pieces of date and walnut and then a few flecks of orange zest.