Ever since an epic seafood extravaganza in Suffolk I've had a thing about eels, I can't do jellied but serve me up some smoked and I melt. It was therefore with a big smile that I took my place in Bonds on Threadneedle Street. Occupying what was once an old banking hall – hence the name – it's high ceilinged bar and colonnaded restaurant give it a feeling of grandeur, though thankfully it lacks the stuffiness one might assume. Despite it being a Wednesday night the bar was full of post-work suits and the restaurant, though quiet, still had an atmosphere.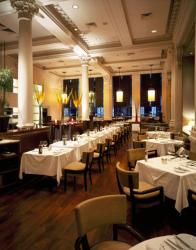 As you may have guessed I started with a delicious smoked eel dish, served with beautifully complimenting beetroot pickle, punchy without being overpowering and a sublime cucumber mousse that melted delectably with the smokiness of the eel. Unlike other eel I've had, this was tender and light, lacking that often rather unpleasant greasiness, meaning no nasty aftertaste during the divine pork belly that followed.
A generous hunk, which after a slight tackle to breach the crispiest of skin, was exceptional in its softness. Adorning the plate was mini apple baubles, sweet, crisp and the perfect antidote to the meatiness of the pork and the stickiness of the reduction. For the real porkers, the accompanying chorizo risotto was creamy, smoky and almost too much pig for me to handle. As it was a school night I refrained from getting too involved with their extensive wine list, which included a couple of Grand Cru Classé to impress the father in law, plus plenty more mid range bottles, which if my glass was anything to go by, are well chosen.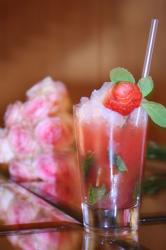 Though I went all out for their a la carte menu, Bonds has also been offering a seasonally changing menu, three courses for £19.95 which is a compete bargain for central London fine dining. Dishes like chicken liver foie gras parfait with quince puree and toasted brioche looked stunning and I'm sure tasted even better. Chef Barry Tonks is an expert on British fare and knows how to make the most out of the changing seasons.
Finally pudding must get a mention…groaning though I was, it would have been rude not to try the hazelnut ice cream and cherry sorbet. Both came resting on tiny wafer thin discs of caramel, giving them a delectable crunch. Heavenly, the cherry, so dark and rich it could almost have been blackberry and the hazelnut, smooth, creamy and deliciously nutty. Now for the walk home with my button undone…