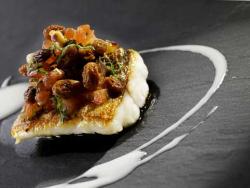 Marc Fosh is the first British chef to have been awarded a Michelin star in Spain. He now owns three restaurants in Palma de Mallorca serving authentic Mediterranean food.
Serves 4:
4 fillets of sea bass (150g each)
For the vinaigrette:
200ml Fosh olive oil
50ml sherry vinegar
500g tomatoes, peeled and diced
30g sultanas
20g pine nuts, lightly toasted
2tbsp parsley, chopped
Fosh sea salt and pepper
For the warm potato and Olive Oil Soup:
350g potatoes, peeled
800ml fish stock
100g chopped onions
300g Fosh olive oil
Fosh sea salt and pepper
For the Vinaigrette:
In a small saucepan bring the sherry vinegar to the boil. Add the sultanas and remove from the heat. Allow the raisins to cool and absorb the vinegar. Once cool toss with the olive oil, pine nuts, diced tomatoes and season to taste.
For the potato soup:
In a saucepan bring the onions, potatoes and fish stock to the boil.
Simmer for 15 minutes until the potatoes are cooked. Remove from the heat, add the olive oil and blend in a food processor. Pass through a fine sieve.
To Serve:
Heat a little olive oil in a heavy-bottomed frying pan. Season the fish fillets with salt and pepper. When the oil is hot, add the fillet, skin side down and cook for 1-2 minutes. The skin should become golden and crispy. Turn over and finish cooking. Approximately 2-3 minutes.
Place the fillets in the middle of 6 large bowls and gently arrange a large spoonful of vinaigretteon top of the fish. Pour a little warm potato and olive oil soup around the outside and serve.