Smoked salmon canapés are a Christmas classic for a reason – they look pretty posh and taste just as fancy. Hix Restaurants' Ronnie Murray makes the tried-n-tested combo tastier still.
Smoked salmon on soda bread with Castello Creamy White
Makes 10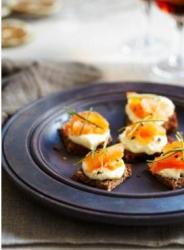 Ingredients:
10 slices soda or rye bread
200g Castello Creamy White
50ml double cream
10 slices smoked salmon
10 slices cucumber (pickled if preferred)
Cracked black pepper
Method:
Lightly toast the soda or rye bread, cut into bitesized pieces, and put aside.
In a bowl, whip together the double cream and Castello Creamy White until light and glossy. Spread generously on the soda bread.
Place a folded slice of smoked salmon on top, and scatter over some black pepper.
Cut the cucumber into short Julienne strips. Lay across the top of the salmon and serve.
For more information on Castello cheese, visit www.castellocheese.co.uk