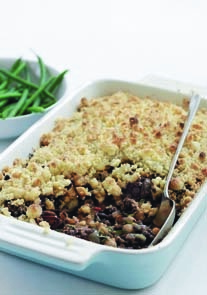 If you're searching for the perfect choice for a wintery, Christmas night, try this delicious main-course dish from Cheshire Cheese. Made with spicy lean minced lamb, courgettes, aubergine, canned chick peas, and a tasty Cheshire cheese crumble topping, it's sure to warm you up!
Serves 4
Preparation time 20 minutes
Cooking time 45 minutes
Ingredients
500g/1lb 2oz lean minced lamb
1 onion, finely chopped
2 garlic cloves, crushed
1 medium aubergine, thinly sliced
1 tsp ground cumin
1 tsp ground ginger
1 tsp dried thyme
1 tsp chopped fresh red chilli or ½ tsp medium chilli powder
1 tbsp tomato puree
125ml/4fl oz red wine or water
1 medium courgette, grated
50g/2oz sultanas
410g can chick peas, rinsed and drained
Freshly ground black pepper
Topping:
100g (4oz) plain flour
50g (2oz) chilled butter, cut into pieces
75g (3oz) Cheshire cheese, finely crumbled
Directions:
Preheat the oven to 180°C / fan oven 160°C / Gas Mark 4.
Heat a large saucepan and add the lamb, searing it over a high heat until browned. Add the onion and garlic, reduce the heat and cook for about 5 minutes, stirring often.
Meanwhile, char-grill or grill the slices of aubergine for about 2 minutes on each side to soften them.
Stir the spices and herbs, tomato puree and red wine or water into the lamb mixture and simmer for 5 minutes. Add the courgette, sultanas and chick peas, then remove from the heat. Season with black pepper. Spoon half the mixture into a deep baking dish. Layer the aubergine on top, then add the remaining mince mixture, leveling the surface. Cool for a few minutes whilst preparing the topping.
Sift the flour into a mixing bowl and rub in the butter until the mixture looks like fine breadcrumbs. Stir in the crumbled Cheshire cheese. Sprinkle over the mince mixture and bake for 30-35 minutes.
Cook's Tips: You could use 1 tbsp medium curry powder instead of the cumin, ginger and chilli. Replace the aubergine with thickly sliced mushrooms, if you prefer – there is no need to grill them.