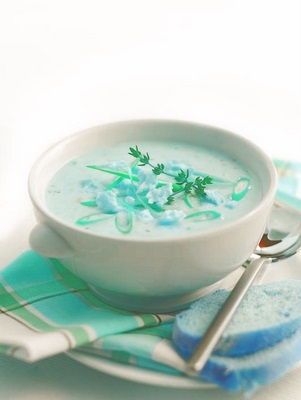 When unexpected visitors arrive on your doorstep, this wonderfully warming soup is so easy to make. Spring onions, thyme, and Cheshire cheese create a fresh taste that's perfect for a light lunch served with crusty bread.
Serves 4
Preparation time 10 minutes
Cooking time 30 minutes
Ingredients:
15g/1/2oz butter
2 bunches spring onions, trimmed and sliced
900ml/1 ½ pints vegetable stock
1 tbsp fresh thyme leaves
100g/4oz low fat soft cheese
2 tbsp cornflour
150ml/1/4 pint milk
100g/4oz Cheshire cheese, crumbled
Freshly ground black pepper
Fresh thyme sprigs, to garnish
Directions:
Melt the butter in a large saucepan. Add most of the spring onions, reserving a few for garnish. Cook the spring onions over a medium heat for 2-3 minutes, until softened.
Add the stock and thyme leaves. Bring to the boil, then reduce the heat and simmer, partially covered, for 20 minutes.
Transfer the soup to a blender or food processor and add the soft cheese. Blend for 15-20 seconds until smooth. Return the soup to the saucepan. Alternatively, use a hand-held stick blender to blend the soup in the saucepan.
Stir the cornflour into the milk until smooth, then add this to the saucepan with most of the crumbled Cheshire cheese, reserving a little for garnish. Heat gently until thickened and smooth, though avoid boiling the soup. Season to taste with black pepper.
Ladle the soup into warmed bowls. Serve, garnished with the reserved spring onions, Cheshire cheese and thyme sprigs.
Cook's Tips: Use 1 large onion instead of the spring onions, though don't use it as a garnish as the flavour will be too strong.
Try sprinkling crumbled Cheshire cheese over your own favourite soups – its flavour will really add to the overall taste. Try it crumbled onto Leek and Potato Soup, Tomato Soup or Minestrone.