Ingredients: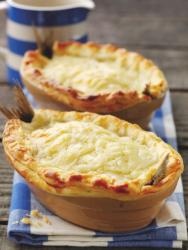 Sauce
250ml Fish stock
125g Double cream
50g English mustard
Pie
100g Smoked streaky bacon, thinly sliced
1 White onion, finely chopped
250g Shortcrust pastry
8 Sardines, butterflied with the tail left on
1 Egg for egg wash
8 Quail eggs, boiled for two minutes and peeled
2tsp Dill, chopped
2tsp Parsley, chopped
4 tbsp Grated Davidstow Crackler Cheddar
Method:
· Heat a frying pan on a medium heat and add a drizzle of oil. Sweat the onion and bacon in a pan and cook for four minutes. Add the fish stock and simmer for fiveminutes. Add the cream and mustard and simmer for three minutes. Remove from the heat and add the herbs, then cool the mixture.
· When the mixture is cooled divide it between four pie dishes and place two quail eggs in each dish. Season the sardines with salt and pepper and lay two of them in each dish with the tails sticking out.
· Roll the pastry and cut into shapes that will cover the edge of the dish. Egg wash the pastry and the edges of the pie dish. Cut two holes in each pastry shape and lay them on the pie dish, pulling through the sardine tail so that it pokes out.
· Heat the oven to 200c and then sprinkle the cheese onto the pastry tops. Place the pies in the oven and cook for 15 minutes until the pastry is golden.
· Serve immediately with a pint of beer and some crusty bread.