Cheese and pineapple is practically a British institution. The cheese in this recipe might sound bonkers, but rest assured Hix Restauraurants' Ronnie Hix doesn't need to be institutionalised – this cheesecake is a winner.
Strawberry & Castello Pineapple Halo cheesecake
Makes 20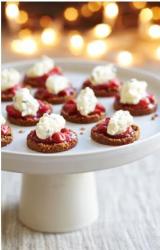 Ingredients:
250g Hobnobs or other biscuits
½ tsp vanilla extract
50g butter
250g Castello Pineapple Halo cheese
250g double cream
75g caster sugar
150g strawberries
Method:
Put the Hobnobs or other biscuits in a plastic bag and crush with a rolling pin.
Tip the crumbs into a saucepan with the butter and heat, stirring until the butter melts and the crumbs come together.
Spoon the mixture into a biscuit cutter and press down until you have a base with roughly 5mm thickness.
Repeat until all the crumbs have been used. This should make around 20 bases for your cheesecakes.
To make the strawberry compote, put the strawberries in a pan on a low heat, add 25g sugar, and reduce until the strawberries start to lose their form and you have a rich syrup. Leave to cool.
For the topping, whip together the Pineapple Halo cream cheese with the double cream and remaining caster sugar and vanilla essence until thick.
To assemble the cheesecake, spoon the strawberry compote onto the biscuit base and top with a quenelle of the cream cheese mixture.
Serve immediately or keep chilled until required.
 For more information on Castello cheese, visit www.castellocheese.co.uk