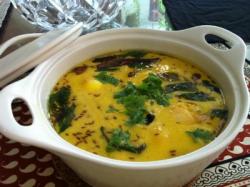 This is a wonderful Pakistani family recipe that is great for using up slightly old yoghurt with an addition of fresh vegetables. Karri is a wonderful warming winter/spring dish which can either be eaten as a soup or with plain boiled Basmati rice. It's great for vegetarians as well. I always make Karri when I find unused out-of-date yogurt in the fridge. In fact, the older the yogurt the better the Karri- this is KEY! (Of course, I'm not suggesting you use old, moldy yogurt!)
Karri is a quick, easy and fairly foolproof recipe. The key thing to keep an eye on initially is that you should not let any lumps remain floating in the mixture prior to cooking. The warming nature of the Karri along with its vibrant yellow colour can bring sunshine to a cold miserable evening!
Serves 4-5 people when accompanied with rice

Ingredients:
For the karri:
2 cups of not-very-fresh yogurt
salt to taste
a little red chilli powder
1 tsp turmeric powder
1 heaped tsp of ginger and garlic paste
1 tbsp of chickpea flour
1 tbsp semolina
a few fenugreek seeds
a handful or two of peas- par-boiled if fresh/thawed if frozen
a handful of carrot batons- par-boiled
a handful of peeled potato batons- par-boiled
3-4 hard boiled eggs, fried in oil and browned separately- eliminate if you are vegetarian
cooking oil
chopped coriander leaves to garnish
For the bhagar (tempering):
vegetable oil
a few mustard seeds
a few curry leaves
round dried red chilli (you can get these in Indian/Pakistani shops) or any dried red chilli
garlic- sliced

Method:
Begin by beating the yogurt with enough cool water to create a thin 'lassi'- i.e. to resemble thin milk- and then strain this liquid to get rid of any lumps.
To this add salt to taste, a little red chilli powder (not too much as you want the dish a vibrant yellow), the turmeric powder, ginger/garlic paste, semolina and chickpea flour.
Heat a little oil in a saucepan and add a few fenugreek seeds. Allow to cook until they splutter. Take them out once the oil is fragrant.
Pour the yellow yogurt liquid into the fragrant oil and cook over a very low heat, stirring occasionally.
Cook until beginning to thicken, then add the par-boiled veggies. Don't add them too early as they will overcook.
Once the Karri is thick it is ready for tempering. This is when you add the boiled fried eggs and pour into a serving dish.
For the baghar (tempering), heat oil in a small frying pan. Add garlic and fry until light brown with the mustard seeds, dried red chilli and lastly the curry leaves.
Quickly pour this on top of the Karri and cover the dish for a few minutes. Garnish with coriander leaves and enjoy as a soup or with rice.
Find more recipes like this on Pukka Paki- "The art of Pakistani home cooking" www.pukkapaki.com