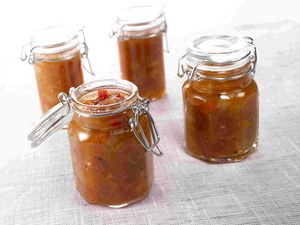 While we tend to think of Autumn as 'chutney season', at any time of the year we can find ourselves faced with a bargain, one which cries out to be preserved for enjoyment long after its normal usage period. Many market stalls and greengrocers will offer excellent deals of produce, such as peppers. Sometimes it is the end of the day and they are trying to shift stock which won't keep…this is your perfect opportunity to strike a bargain and start preserving! This recipe, from Fruisana Fruit Sugar, is for Sweet Pepper Chutney and is simple to make. By using Fruisana rather than conventional sugar, the flavours are all intensified. What's more, Fruisana can be used by Type 2 diabetics so this chutney can be safely enjoyed by all the family.
Sweet Pepper Chutney
450g red, green & orange sweet peppers
900g bramley apples
675g onions
900g tomatoes
2tsp paprika
1tsp cayenne pepper
2tsp ground black pepper
1 litre pickling vinegar
250g Fruisana fruit sugar
1. Wash the peppers and cut in half. Then remove the stalk and any seeds and then chop the peppers finely. Peel, core and dice the apples, then finely dice the onions. Wash and dice the tomatoes and place in a large preserving pan.
2. Stir in the paprika, cayenne pepper, ground black pepper and then stir in the vinegar and bring to the boil. Allow to simmer for about 45 minutes.
3. Stir in the Fruisana, stir until dissolved and continue to simmer until desired consistency is reached.
4. Pour into warmed jars, cover and label. Store in a cool dark place for at least 3 months before using.
Fruit sugar (fructose) is found naturally in most fruits and honey, and it complements and enriches the flavours of other ingredients, especially fruits. Also, fruit sugar is sweeter than ordinary sugar, so you only need to use two-thirds of the amount one would usually use with sugar. What's more, Fruisana has a low GI* – only 19 – which means it releases energy slowly and minimises those energy peaks and troughs to help sustain energy for those darling little rascals during the busy Easter holidays! Fruisana is ideal for all those following a low GI diet and also for Type II diabetics, so baking with fruit sugar makes sense for all the family.
To obtain more information and a selection of recipe booklets from Fruisana, including more preserving recipes, further chutney recipes and a host of other ideas, just phone 0800 279 1114 or email information@fruisana.com. Further information can be found by visiting www.fruisana.com
-ENDS-