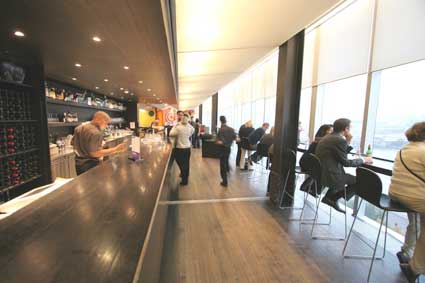 Rodchenko & Popova: Defining Constructivism opened to the public on February 12 at Tate Modern. To mark the occasion, Tate bars manager Alex Stevenson, has created three delicious Russian inspired Vodka cocktails: a Raspberry & Lychee Martini, a Redcurrant & Elderflower Sour and an Apple & Cinnamon Martini.
These uplifting cocktails are available at Tate Modern's Level 7 Bar priced at £6.50 each and, along with the stylish art and stunning views of the River Thames and St Paul's Cathedral, are the perfect pick-me-up during the cold winter months. The Level 7 Restaurant which is located adjacent to the Bar, serves simply prepared seasonal food and drink and is open for morning coffee, lunch and afternoon tea every day, and serves dinner on Friday and Saturday evenings.
Alexander Rodchenko and Lyubov Popova were arguably two of the Russian avant-garde's most influential and important artists. The exhibition runs until May 12 2009 and charts the evolution of their aesthetics from abstract painting to graphic design, including designs for cinema and theatre as well as numerous posters, books, and costumes.
The Russian-inspired cocktails will run until May 12 2009.
Tate Catering can be found at: Tate Britain, Tate Modern, Tate Liverpool, Tate St Ives, The Fitzwilliam Museum Cambridge, Bluecoat Arts Centre Liverpool, St. John's, Smith Square and the Ice Cafe at Somerset House from 19th November 08 through 25th January 09