We're sharing some simple and delicious recipes from Tate & Lyle Sugars Lyle's Golden Syrup, perfect for entertaining and impressing your guests during the BBQ season.
·        The Marinated soy chicken is easy yet impressive, marinated in fiery ginger, sesame oil, soy sauce and an all-important spoonful of Lyle's Golden Syrup. It's a summery dish, guaranteed to have your friends and family coming back for seconds.
·        Try mouthwatering Glazed Barbecued Ribs marinated in Lyle's Golden Syrup and moist dark soft brown sugar. This exotic dish is finger-licking good and will give you a taste of the tropics.
·        For a fresh summery salad dressing look no further – combine some virgin olive oil, white wine vinegar, Lyle's Golden Syrup, black paper with Dijon mustard, give it a whirl and voila – your French inspired dressing is ready to serve!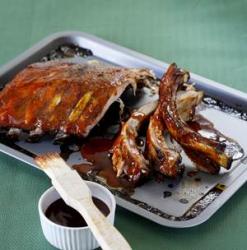 Glazed Barbecued Ribs
Makes:  2 Prep time: 10 minutes
Cooking time: 25-30 minutes
for the ribs
1 x 6-8 pork loin rack of ribs, about 500g (1lb2oz)
1 sprig fresh rosemary
1 large sprig fresh thyme
1 large garlic clove, unpeeled
for the glaze
1 tbsp Lyle's Golden Syrup
2 tbsp tomato ketchup
1 tbsp soy sauce
1 rounded tbsp Tate & Lyle Fairtrade Dark Soft Brown Cane Sugar
Preheat the oven to 200°C/Fan 180°, 400°F, Gas 6.
Place the ribs in a large saucepan and cover with boiling water. Add the rosemary, thyme and garlic clove and bring to the boil. Boil for 10 minutes, then drain and discard the water, herbs and garlic.
For the glaze, place the Lyle's Golden Syrup, ketchup, soy sauce and sugar in a small pan and simmer for 3-4 minutes or until reduced and sticky.
Put the blanched ribs on a baking tray and brush all over with the glaze. Place on the middle shelf of the oven and cook for 10-15 minutes, or until the pork is completely cooked through and nicely sticky.
Transfer the ribs to a chopping board, slice into ribs and serve.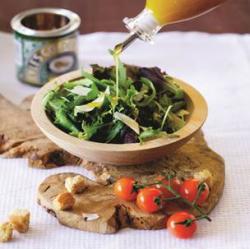 Salad Dressing
Serves:  4-6                  
Prep time: 10 minutes
Cooking time: 25 minutes
200ml (7floz) extra virgin olive oil
2 tbsp Lyle's Golden Syrup
1 tbsp white wine vinegar
1 rounded tsp Dijon mustard
salt & freshly ground black pepper
In a jar combine the olive oil with the Lyle's Golden Syrup, the vinegar and mustard and shake until mixed. Season with salt and pepper.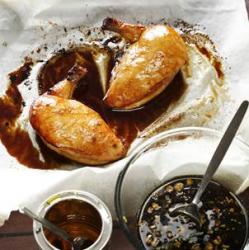 Marinated Soy Chicken
Serves:  4                    
Prep time: 10 minutes
Cooking time: 20-25 minutes
175ml (6floz) soy sauce
125g (4½oz) Lyle's Golden Syrup
2 tsp sesame oil
4cm (1½Ã¢â'¬Â) piece ginger, peeled & finely grated
freshly ground black pepper
4 chicken breasts
You will also need a baking tray lined with parchment paper.
Preheat the oven to 180°C/Fan 160°, 350°F, Gas 4.
Combine the soy sauce, Lyle's Golden Syrup, sesame oil, ginger and a generous amount of black pepper in a shallow non-metallic dish. Add the chicken and leave to marinate for a minimum of 2 hours or overnight, turning from time to time. Cover and chill.
Drain the chicken from the marinade. Place on the baking tray and cook for 20-25 minutes or until golden brown and cooked through. Baste halfway through with the reserved marinade. Transfer to a dish and serve.
This recipe was made using Lyle's Golden Syrup, for more delicious recipes and further information visithttp://www.lylesgoldensyrup.com www.tasteandsmile.com