Something quick and easy which the whole family will love, with a crispy garlic crumb topping that can be sprinkled over for those who fancy it.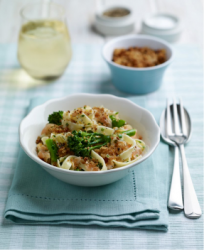 Serves: 4
Preparation time: 10 minutes
Cooking time: 15 minutes
You will need:
For the garlic crumbs:
120g piece of wholemeal bread, slightly stale is best
2-3 tbsp olive oil
a pinch of dried chilli flakes (optional)
2 cloves garlic, crushed
Salt & freshly ground black pepper
For the pasta:
375g dried tagliatelle
240g Tenderstem, cut into 3-4cm lengths
200g smoked salmon
300ml crème fraiche, either full or half fat
a small bunch of chives, snipped
A little salt & freshly ground black pepper
What to do:
To make the garlic crumbs, cut the crusts off the bread and discard. Roughly tear into chunks and pulse for a few seconds in a food processor until you have rough breadcrumbs, with some small and some larger pieces.
Heat a frying pan over a medium heat and add 2 tablespoons of oil. Tip in the crumbs and add the chilli if using. Fry for 2-3 minutes until crisp and golden, stirring frequently, adding a little more oil if they are looking too dry. Add the crushed garlic, season with salt and freshly ground black pepper and stir well to mix. Fry for a further minute then tip into a bowl and set aside. 
Bring a large pan of lightly salted water up to a rolling boil. Add the tagliatelle and cook according to the packet instructions, about 12 minutes. 3 minutes before its due to be cooked, drop in the Tenderstem. Drain well and tip back into the pan.
Stir through the smoked salmon, crème fraiche and chives until evenly mixed, warming over a low heat as you do so. Season to taste with salt and pepper and serve in warmed bowls.  Pass the garlic crumbs around separately for people to add themselves.