Get ready to enjoy British Food Fortnight, the nation's biggest celebration of the diverse and delicious range of food that we produce here in the UK, with these Tenderstem® broccoli recipes.
Tenderstem® is now in ample supply across the country until late November and not only is it good for you, it's full of taste and versatile enough to use in lots of different recipe.
BRUSCHETTA WITH TENDERSTEM®, GARLIC MUSHROOMS & GOATS CHEESE
One of the 'Tenderstem® in Ten' recipes, this yummy recipe is ready in less than ten minutes and would make a speedy and delicious lunch or supper snack.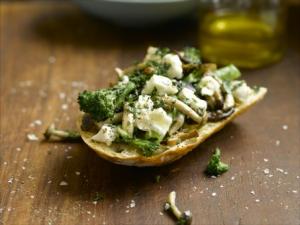 Serves: 4
Preparation and cooking time:
Under 10 minutes
You'll need:
1 ciabatta loaf (ideally from your local baker)
1 tbsp British rapeseed oil
200g packet British Tenderstem® broccoli
2 handfuls British mushrooms – any variety
Large knob butter
1-2 cloves garlic, crushed
200g crumbled British goats cheese
Handful chopped flat leaf parsley
What to do:
Slice open the ciabatta loaf, and cut each side in half. Brush with a little rapeseed oil and grill until nicely toasted.
Steam or boil the Tenderstem® for about 3 minutes until tender.
Sauté the mushrooms in a knob of butter and 1 or 2 crushed garlic cloves and season well with salt and pepper.
Add the cooked Tenderstem® and toss well to coat it in the garlicky juices.
Pile the Tenderstem® and mushrooms onto the ciabatta and top with the crumbled goats cheese.
Put the bruschetta back under the grill for about 2 minutes until the cheese just starts to soften.
Eat immediately with a generous sprinkle of finely chopped flat leaf parsley.
TENDERSTEM® BROCCOLI AND BACON QUICHE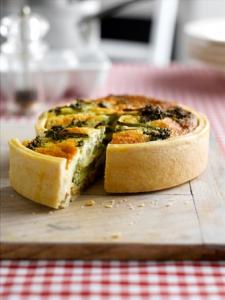 Serves: 4
Preparation time: 20 minutes
Cooking time: 50 minutes
You'll need:
500g short crust pastry
1tbsp British rapeseed oil
100g British bacon lardons
1 garlic clove finely chopped
350g British Tenderstem® broccoli
4 free range Lion Mark eggs
200ml double cream
Salt and cracked black pepper
What to do:
Preheat the oven to 200°c (400°f, gas mark 6)
Roll out the pastry and line a 16cm spring form tin. Prick the base of the pastry and chill in the fridge.
Heat the oil in a small frying pan, add the lardons and cook until almost crisp. Add the garlic and cook for another 30 seconds. Remove from the heat and leave to cool slightly.
Sprinkle lardoons and garlic over the base of the pastry. Fill the case with Tenderstem®.
Beat the eggs, cream and season with salt and pepper. Pour the mixture into the case.
Bake in the middle of the oven for 45 minutes or until set. Serve warm.
TENDERSTEM® BROCCOLI, PEA AND MINT SOUP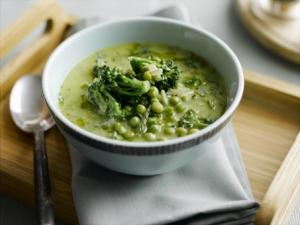 Serves: 4
Preparation time: 10 minutes
Cooking time: 20 minutes
You'll need:
1 tbsp British rapeseed oil
25g butter
1 medium white British onion finely chopped
1 garlic clove peeled and finely chopped
400ml chicken stock
400g shelled peas or British frozen peas if not in season
100g British Tenderstem® broccoli florets
Salt and cracked black pepper
Small bunch of mint shredded
What to do:
Melt the oil and the butter, add the onion and garlic and cook over a gentle heat until soft, about 10 minutes.
Add the chicken stock and bring to the boil, add the peas and Tenderstem® and cook until they are soft (about 5 minutes). Remove half of the soup and blend in a food processor then add back into the rest of the soup.
Season with salt and pepper. Stir in mint and serve.