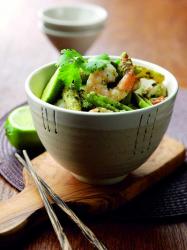 Thai New Year, celebrated from 13th to 15th April, is a great opportunity to serve up the irresistible fragrant and aromatic flavours of Thai-style cooking. Very Lazy has a selection of mouth-watering Thai-inspired recipes to make for friends and family and with the range of Very Lazy cooking ingredients, the preparation and cooking couldn't be easier.
Or try Thai Pork and Noodle salad
Preparation time: 15 minutes
Cooking time:  12 minutes
Serves: 4
Per serving:
219kcals, 7.9g fat, 1.4g sat fat
Ingredients:
350g/12oz boneless, skinless chicken breasts cut into slices
1-­2 tsp Very Lazy Hot Chilli Paste
2 tsp Very Lazy Garlic Paste
3 tbsp Very Lazy Ginger, drained
1 tsp of Lemongrass paste
½ tsp each ground cumin and coriander
2 large handfuls fresh coriander with stalks, finely chopped
1 bunch spring onions, trimmed and roughly chopped finely grated rind and juice of 2 limes
2 tbsp olive oil
200g/7oz baby corn, halved lengthways
400ml coconut milk
200g/7oz sugar snap peas, halved lengthways
300g/10oz jumbo cooked prawns * (see variations in Cook¹s tip)
2 tbsp soy sauce to season, optional
 Method:
1. Place the chilli, lemongrass and garlic pastes, ginger, cumin and coriander (ground and fresh), spring onions, lime rind and juice, and 1 tablespoon olive oil into a food processor and whiz to a vibrant green paste. 2. Heat the remaining olive oil in a wok or large frying pan and stir-fry the baby corn for 1 minute until beginning to char. Add the green curry paste, coconut milk and sugarsnap peas and bring to the boil, simmer for 5 minutes. 3. Stir in the prawns and simmer for 2 minutes stirring occasionally to heat through. Season to taste with the soy sauce, if liked. Serve with lime wedges to squeeze over and fluffy fragrant rice.
Cook's tip: Make me veggie: Omit the prawns. Cook a large peeled and chunky diced sweet potato in lightly salted boiling water for 6-7 minutes until just tender and add to the dish with the coconut milk.
Very Lazy Chopped Garlic (200g) is available from selected Tesco, Asda, Sainsbury's and Morrisons stores nationwide, RRP £1.47
Very Lazy Chopped Red Chillies (190g) is available from selected Tesco, Asda, Sainsbury's and Morrisons stores nationwide, RRP £1.47
Very Lazy Chopped Smoked Red Chillies (190g) is available from selected Tesco stores nationwide, RRP £1.60
Very Lazy Coriander Paste (75g) available from selected Tesco stores, RRP £1.85