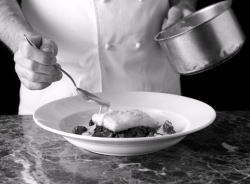 On Monday 29th September, restaurant Almeida will host a unique charity cook off seeing two of D&D London's exciting and talented chefs go head to head in the kitchen.
Hosting restaurant Almeida's head chef Tommy Boland will take on Notting Hill sister restaurant Kensington Place's head chef Dan Loftin in a battle for the best overall menu. Both chefs have created three dishes – one fish, one meat and one sweet – which will be served as part of a luxurious six course tasting menu; guests will then rate each dish out of ten in a similar style to popular television cookery competition, The Great British Menu, and the chef with the most points wins. 
Edinburgh-born Tommy Boland is known for his clean, contemporary European menu and use of the highest quality, seasonal British ingredients available, while Brighton boy Dan Loftin is renowned for his sustainable fish and seafood dishes alongside his selection of classic British desserts. On the evening, guests can expect dishes such as Wild rabbit terrine with pickled carrots, rabbit liver parfait, sorrel and hazelnuts, Fillet of turbot with peas, herb gnocchi, palourde clams and samphire and Amalfi lemon with meringue and raspberries, completely unbeknown as to which chef has created and cooked each dish.
Drinks on the evening will be provided by Boutique Brands including a GVine G&T Martini with reduced grape tonic on arrival created by Kensington Place's bar manager Imants Zusmanis, while the wine has been chosen especially to complement the range of dishes available on the menu.
A special guests, yet to be confirmed, will host the event, welcoming guests and presenting a range of exciting live and silent auction lots as well as an interactive running commentary with Tommy and Dan hard at work. Guests will also be able to see both chefs in action preparing and cooking dinner in Almeida's large open-plan kitchen, adding another level of entertainment. 
With all profits from the evening going to charitable organisation, Action Against Hunger, tickets to the event are £65 per person, including a welcome cocktail on arrival and a six course tasting menu with wine.
To book tickets to the event, please visit https://endhunger.actionagainsthunger.org.uk/cookoff or contact Lizzie Charles at e.charles@actionagainsthunger.org.uk