This is a truly delicious green herb tandoori chicken that is flavourful and succulent.  I like to use thighs with the bone in for succulence and flavour.  Serve with Herby Coleslaw with Seeds or some sautéed potatoes.  You can also use this marinage and method with other meats, or even halloumi or paneer cheese.
Serves 4
Ingredients: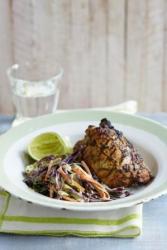 4 skinless chicken thigh joints, fat trimmed
3 tbsp The Spice Tailor Mint Leaf Chutni
3 tbsp plain yogurt
1 tsp garam masala
1 tsp ground cumin 
3 tsp lime/lemon juice
3 cloves of garlic, peeled and grated into a paste
Scant 2 tsp ginger paste
2 tsp oil
Salt and 1/3 tsp black pepper, or to taste
Method:
Slash the chicken thighs 3-4 times over the top, down to the bone.  
Mix all the remaining ingredients in a large bowl, taste, adjust the seasoning and then add the chicken, coating well in the marinade. 
Cover the bowl with cling film and leave to marinate in the fridge for a few hours, preferably overnight. 
Remove from the fridge and let the chicken come to room temperature, about 30 minutes before cooking.
Preheat your grill.  (I use the grill setting in my oven.)  
Place the chicken on top of a baking tray lined with foil. 
Grill in the centre of the oven for 8-10 minutes (depending on their size), then turn over and repeat on this side or until the chicken is cooked through and charred in places.  When cooked, the chicken should feel firm when lightly pressed.  
Serve hot with any pan juices drizzled over the top with lemon wedges.
Herby Coleslaw with Seeds
The perfect accompaniment to any grilled foods, as well as fish cakes or kebabs.
Serves 4 as an accompaniment
Ingredients:
½ small red cabbage, finely shredded
½ small pointed spring cabbage, finely shredded
1 medium carrot, peeled and finely grated
1 spring onion, thinly sliced on the diagonal
4 tbsp The Spice Tailor Mint Leaf Chutni
4 tbsp good-quality mayonnaise
2 tbsp lime juice, or to taste
Sea salt and freshly ground black pepper, to taste
Small bunch of mint, roughly chopped
1½ tbsp toasted sesame seeds
1½ tbsp black onion or nigella seeds
Method:
For the coleslaw, put the shredded cabbages, carrot and spring onion into a large bowl. 
Stir together the Mint Chutni, mayonnaise, lime juice and seasoning to taste.  
Pour two thirds of the dressing over the vegetables and mix well. 
Add half the chopped mint, sesame seeds and nigella seeds and fold through.
Chill until ready to serve.
 To find out more about The Spice Tailor range please visit www.thespicetailor.com