In celebration of National Curry Week (23rd – 29th November) and to launch a series of Anglo-Indian recipes, a county chef has created Lincolnshire's first locally-inspired curry. Known as the Yellow-Bellied Bhuna, this medium hot mouth-watering dish includes the famous Lincolnshire sausage, Lincolnshire potatoes and other locally-loved produce combined with fresh Indian spices.
Mr Huda's herb and spice mixes can be found in Lincolnshire Co-ops, selected Asda stores and independent retailers nationally. Mr Huda's Anglo-Indian inspired recipes are available now on www.mrhudas.co.uk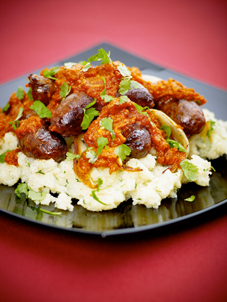 Lincolnshire Sausage with roast onions, coriander and cumin mash and Bhuna sauce.
Ingredients for 4 portions
Many of the ingredients can be kept in your store cupboard until you need them such as the chilli and garlic paste and tinned tomatoes then you can buy your fresh Lincolnshire produce to complete the dish. Why not double up the sauce quantities and freeze half for next time.
8-12 Lincolnshire sausages
2 medium locally sourced onions
1 tin chopped tomatoes
½ to 1 tsp chilli paste or 1 chopped green chilli
1 tsp garlic puree or 1 garlic clove
5 tsp Mr Huda's universal curry paste
1.5kg Lincolnshire potatoes for the mash
½ tsp dried cumin
2 tbsp chopped fresh coriander
Knob of butter
Place the sausages on a baking sheet, take one of the onions, peel it and cut it into wedges, place the onion wedges on the baking sheet with the sausages and put in a preheated oven (190°C) for approx 35-40 mins or until both the sausages and onions are golden brown.
Put 1 tsp of olive oil in a saucepan. Peel and dice the other onion place in the olive oil and cook until beginning to soften. Once softened add the chill paste, garlic paste and the tin of chopped tomatoes. Simmer gently until there is very little liquid left in the pan then add the Mr Huda's Universal curry paste. Remove from the heat. You can either leave this sauce chunky or you can pop it in your liquidiser for a smoother finish, if you liquidise it return it to the pan when done and warm gently until required.
Peel the potatoes and place in a pan of boiling water with a little salt and cook until soft. When cooked, drain and mash, add a small knob of butter or low fat spread and then ad ½ tsp dried cumin and 2 tbsp of chopped fresh coriander.
Place the mash on a plate or in a large pasta style bowl, put the sausages on top and then pile the onions on top of that, finish off by pouring the sauce over the whole lot… enjoy.