Tia Espresso Martini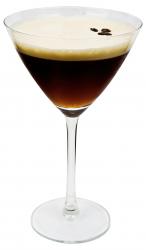 This rich and smooth cocktail is our version of this classic cocktail. The aromatic notes of Tia Maria add more depth and smoothness to the mix, whilst the delicious combination of coffee, vodka and Tia's dark liqueur gives a depth of flavour that will appeal to those with opulent tastes.
Ingredients:
25cl Tia Maria
25cl espresso coffee
25cl vodka
10cl sugar syrup to taste
coffee beans to garnish
Method:
Combine all ingredients together with cubed ice in a Boston and shake. Pour into a martini glass and garnish with coffee beans.
Tia Ginger
This Tia Maria and ginger mixed drink will keep you warm from the inside out during the frosty winter months, and the combination gives a real twist to the spicy taste of ginger beer, a traditional Christmas flavour.
Ingredients:
35cl Tia Maria
half a fresh lime
ginger beer
Method:
Pour ingredients into a highball glass filled with ice, squeeze in the juice of half a fresh lime and garnish with fresh mint.
For more information on Tia Maria, visit www.tiamaria.com