Boasting an eclectic mix of unusual ingredients from countries such as Greece, Italy, Iberia, China, New Zealand, Ecuador and South Africa, MasterChef 2011 winner, Tim Anderson has teamed up with foodie explorers unearthed® to create the first-ever culinary tour around the world on one plate.
Inspired by a snack from Anderson's childhood in America, the s'more – a campfire treat made by sandwiching toasted marshmallows between two biscuits with a piece of chocolate – the 'Around the World on One Plate' recipe is a savoury interpretation of this snack and features a savoury marshmallow on a biltong twig, served with loin of lamb and dressed with a rich chocolate and port sauce.
Lamb Loin and Savoury Marshmallow served with a Chocolate Port Sauce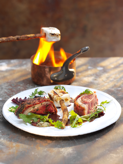 Serves: 4
For the lamb
½ lamb loin (800 – 900g)
2 packs unearthed® Tuscan Finocchiona Salami and Prosciutto
Lay out a large rectangle of clingfilm. Arrange the prosciutto and salami in a large sheet on top, and then place the lamb loin towards the side nearest you. Roll the lamb in the prosciutto and salami, twisting the ends of the clingfilm to tighten and seal. Refrigerate for an hour to firm up.
For the port and chocolate sauce
400ml beef stock
100ml ruby port
1 cardamom pod
1 clove garlic
1 bay leaf
1 star anise
a few black peppercorns
1 tsp soy sauce
20g high-quality dark chocolate
Bring the stock and port to the boil and add the spices. Simmer for an hour, then strain. Return to the heat and boil to reduce. When you have about 100ml, stir in the chocolate and the soy sauce.
For the biltong twigs
20g brown rice
20g high-fibre oat bran cereal (e.g. All-Bran)
60g whole-wheat flour
sea salt, to taste
15g dried porcini mushrooms
1 tsp black pepper
1 tbsp cumin seeds
1 tbsp fennel seeds
1 pack unearthed® biltong
1 egg
water
vegetable oil
Cook the brown rice in salted water until it is very overcooked; it should be slightly mushy. Drain and combine with all dry ingredients in a food processor. Process until a fine crumb is formed. Add the egg and enough water, little by little, to bring it together into a firm but slightly sticky dough. Leave to sit for a half hour for the gluten to develop, then roll out into long, thin, twig shapes – try to keep them less than 1cm in diameter, with a slight point on the end. Heat the oil in a frying pan over a high heat; it should be about 180ºC. Gently lay the twigs into the oil and fry until they are a dark brown colour. Drain on kitchen towel and reserve.
For the savoury marshmallows
100ml milk
1 pack unearthed®'s Goat's Milk Balls
1 tbsp liquid glucose
pinch of salt
6 sheets gelatin
2 egg whites
50g maltodextrin
icing sugar
Heat the milk, goat's milk balls, glucose and salt to a simmer. Bloom the gelatin in cold water. When supple, shake off excess water, and stir into the hot milk mixture one at a time; use a stick blender to make a very smooth puree, strain, and allow to cool to about 50ºC. Whip the egg whites to soft peaks, then shower in the maltodextrin while continuing to whisk. When the mixture is smooth, glossy, and stiff, very slowly pour in the goat's milk mixture while whisking constantly, as you would when making a mayonnaise, you should literally add the mixture drop by drop at first. Keep the mixer going on its highest setting to incorporate air as the mixture sets. Pour the finished mixture out into a lightly oiled container and refrigerate until set. Cut into cubes and toss in the icing sugar. Store in the fridge until needed. (Note: this will make more marshmallows than you need for 4 servings; the rest can be used as you would use cheese for melting.)
For the salad
20g mixed young salad leaves
fresh mint, several sprigs
black pepper
sea salt
15ml olive oil
5ml lemon juice
Wash the salad and pick the mint. Dress with the olive oil and lemon juice. Season just before serving.
To serve
reserved lamb
1 bunch fresh mint
olive oil
reserved sauce
reserved twigs
reserved marshmallows
reserved salad
100ml cognac
Skewer the marshmallows through the twigs. Unwrap the lamb and fry in olive oil for 1 minute on each side, then transfer to a 200ºC oven and cook for another 8-10 minutes, to medium rare. While the lamb is resting, finely chop the mint leaves and spread out on the board. Roll the lamb in the mint to give it a green coating, then slice the lamb and plate alongside the marshmallow and salad. Finally, heat the cognac and flambé. Serve in a sauceboat or copper milk pan at the table while still flaming and let guests toast their marshmallows over the flame. Cover the pan, or blow off the flames and stir in the sauce. Spoon over each dish and enjoy.
For more information on unearthed® visit www.discoverunearthed.com and for more information on Tim Anderson, visit www.cheftimanderson.wordpress.com