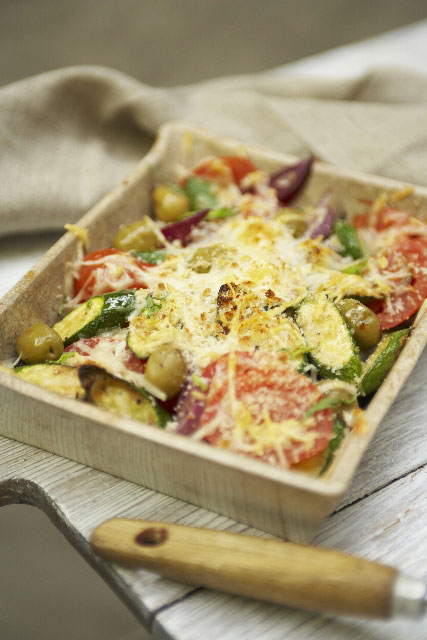 With a week dedicated to the ruby fruit, it is enough to get everyone's taste buds going. The British Cheese Board has created a scrumchous dish with juicy tomatoes and reduced fat cheese to help celebrate British Tomato Week in style. This gratin dish is one not to be missed and what better excuse to try it out than this calendar date!
Recipe can be found on The British Cheese Board site (BCB) (www.britishcheese.com)
This is a great vegetarian dish and can be put together several hours in advance. Or serve as a vegetable accompaniment for roast chicken or grilled lamb chops.
· The low fat cheeses don't tend to melt as well as the reduced fat hard cheese. The reduced fat hard cheese went runny and amalgamated with the other ingredients well.
Preparation time 10 minutes
Cooking time 40 minutes
To make this gratin for 4 you will need;
2 tbsp olive oil
2 onions, peeled, quartered and thinly sliced
2 garlic cloves, peeled and chopped
3 courgettes, about 450g, cut into 5mm slices
ground black pepper
300g ripe plum tomatoes cut into 5mm slices
50g niscoise olives, pitted
3 stems tarragon, leaves stripped and roughly chopped
50g breadcrumbs
110g reduced fat hard cheese, finely grated
To prepare ahead
This gratin dish can be made up to the end of step 4 several hours ahead of cooking.
1. Preheat the oven to 200°C (400°F) mark 6. Warm 1 tbsp olive oil in a large frying pan and add the onion and garlic and 2 tbsp water, and cook, stirring for 5 minutes or until softened.
2. Remove the onions to an ovenproof dish or gratin dish and spread them evenly over the base. Season with pepper.
3. Warm the remaining oil in the same pan, raise the heat to medium high and add the courgette. Cook, stirring occasionally, until they start to colour, about 5 minutes. Tip the cooked courgettes out of the pan so they cover the onions and garlic in the dish.
Scatter the courgettes with the olives and tarragon leaves then tuck in the tomato slices randomly between the courgettes. Mix together the breadcrumbs and grated reduced fat hard cheese and sprinkle over the vegetables.
Cover with foil and bake for 20 minutes. Remove the foil and continue to bake for another 10 minutes to brown the top. Serve immediately.
The British Cheese Board aims to increase awareness of cheese in the UK, and British cheese in particular as part of a healthy diet.
Cheese is one of nature's most complete foods
It contains essential nutrients – fat, protein, vitamins, calcium and other minerals
It is a natural food source made from milk with the addition of salt which acts as a preservative
It is versatile and can be eaten hot or cold any time of the day
There are over 700 named British cheeses available, with a British cheese for every occasion. The British Cheese Board's members account for a large proportion of cheese produced in the UK. The work of the BCB is also supported by associate members who are involved in the cheese supply chain.