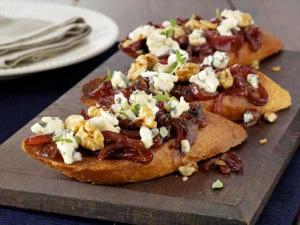 Tracklements Caramelised Red Onion Toastswith Blue Cheese & Walnuts
Makes: 12 -16 canapés
1 loaf French bread
3 tbsp olive oil
1 jar Tracklements Caramelised Red Onion Relish
150g Gorgonzola or Roquefort cheese
50g walnut pieces
Few sprigs thyme
Cut the French bread into 1 inch thick diagonal slices. Brush both sides with olive oil. Cook under a hot grill until just golden.
Top with the Caramelised Red Onion Relish. Crumble the blue cheese and scatter over the top of the relish with the walnuts. Grill again for just a minute until the blue cheese begins to melt.
Serve hot topped with a few leaves of thyme.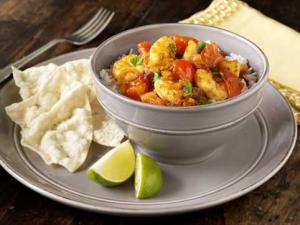 Prawn Curry with Tracklements Green Tomato Chutney
Serves: 4
1 tbsp sunflower oil
3-4 shallots, diced
1 tbsp korma curry powder or paste
1 clove garlic, crushed
6 tomatoes, chopped
400g peeled prawns
3 heaped tbsp Tracklements Green Tomato Chutney
Handful of coriander leaves
Steamed rice and lime wedges to serve
Heat the oil in a frying pan and fry the shallots for 3-4 mins until tender.
Add the curry powder or paste, garlic and tomatoes. Cook for about 5 mins until the tomatoes are softened
Add the prawns and Green Tomato Chutney. Heat through. Stir in the coriander leaves. Serve with steamed rice and squeeze the lime wedges over the dish.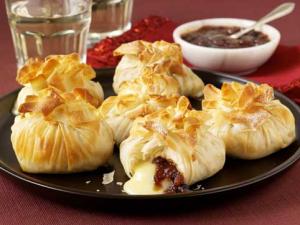 Camembert Parcels with Hazelnuts and Tracklements Christmas Chutney
Serves: 6
1 whole Camembert – about 250g
50g toasted chopped hazelnuts
2 tbsp olive oil
50g butter
2 x 270g packet filo pastry
3 tbsp Tracklements Christmas Chutney
Rocket salad to serve
Preheat the oven to 200ºC/400ºF/gas mark 6.
Cut the Camembert into 6 segments and press the cut sides in the hazelnuts.
Heat the butter and oil together until melted. Unroll the filo pastry and cut the sheets in half. Brush 1 sheet of pastry with a little oil and butter, place a wedge of camembert in the centre and top with 1 heaped tsp of Christmas Chutney.
Fold the pastry over to tightly enclose the cheese. Do this twice (it helps prevent the cheese leaking when cooked). Gather the next (buttered) sheet of pastry up over the camembert, pinching and pleating it to create 'frills" on top. Repeat so that you have used 4 sheets of pastry in total for each parcel. Place the parcels on a baking sheet.
Do the same with the other 5 pieces of cheese. Bake in a hot oven for 6-8 mins until golden brown. Serve as a starter with rocket leaf salad.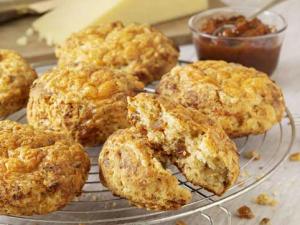 Tracklements Country Garden Chutney& Cheese Scones
Makes: 9
250g self-raising flour
1 tsp baking powder
1 tsp Tracklements Wholegrain Mustard
1 tsp salt
125g butter
75g Cheddar cheese, grated
2 tbsp Tracklements Country Garden Chutney
100-120ml milk
Butter or Cheddar cheese to serv
Preheat the oven to 220ºC/425ºF/gas mark 7.
Place the flour, baking powder, Wholegrain Mustard and salt in a mixing bowl. Add the butter and rub it into the flour until the mixture looks like breadcrumbs. Stir in the cheese and chutney. Add enough milk to make a soft dough.
Turn out onto a lightly floured work surface and pat out to about 3cm deep. Using a 6cm pastry cutter cut out about 9 circles. Place on a baking tray and baking tray for 10 -12 mins until golden brown and risen.
Serve hot or cold with butter, a good Cheddar and Tracklements Country Garden Chutney.