A healthy tasty dish, from Filippo Berio, for those of us trying to lose some of that festive season weight.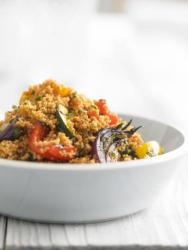 Serves 4 as a main course or 8 as a starter
Preparation time: 20 minutes
Cooking time: 15-20 minutes
Salad Ingredients:
250g / 9oz couscous
300ml (½pt) hot vegetable stock
1 red and 1 yellow pepper, deseeded and cut into chunks
2 medium courgettes, trimmed and thickly sliced
2-3 small red onions, peeled and quartered
30ml / 2 tbsp Filippo Berio Extra Virgin Olive Oil
3 tbsp freshly chopped corianader
Harissa style dressing:
90ml / 6 tbsp Filippo Berio Extra Virgin Olive Oil
2 tbsp tomato puree
4 tbsp lemon juice
½ tsp cayenne pepper
2 tsp ground cumin
Salt and Pepper
Method:
1. Put the couscous into a large bowl, pour the hot stock over, stir then leave to stand until cold. Meanwhile, put all the vegetables into a bowl, add the 2 tbsp of olive oil and toss together.
2. Heat a griddle pan and add a layer of vegetables, cook over a high heat until charred on the edges, remove to a plate then cook the rest of the vegetables in the same way.
3. Whisk the dressing ingredients together. Fork through the couscous until fluffy then add the dressing and mix well until all the grains are coloured from the dressing. Add the cooled vegetables and coriander, then toss together and serve at room temperature.
For more recipe ideas using Filippo Berio products go to: www.filippoberio.co.uk/recipes