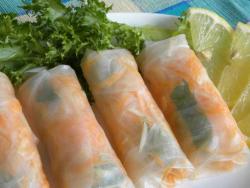 Despite the fiery sweetness of the Thai Sweet Chilli Sauce  this dish is remarkably cooling and summery. Make a load in advance and hand around with bottles of cold beer and glasses of white wine.
For an authentic Fusion & Asian cooking experience in your own home, you can buy WORLDFOODS sauces direct
All Foodepedia readers can take advantage of an EXCLUSIVE free shipping code on all products, please use: V2T9QF63
Ingredients for Salad
300g Red Carrot shredded finely
2 (300g) red apples shredded finely
2 (300g) green apples shredded finely
50g raisins WORLDFOODS Thai Sweet Chili with Kaffir Lime Dipping sauce
2 tbsps lime/lemon juice (adjust to taste)
Rice paper
Cooking Instruction
1. Mix all ingredients with WORLDFOODS Vietnamese Hot Chili garlic dipping sauce.
2. Dip the rice paper wrappers in warm water.(Alternatively, you can use a pastry brush dipped in water to dampen the wrappers)
3. Lay out on a flat counter.
4. Spoon about 2 tbsp of filling onto the bottom section of the wrapper. Roll the bottom edge over the filling. Fold the two sides over the filling, and then roll up.
Repeat with other wrappers.
5. Serve as it is
Serves 4