We do like Paul A Young's chocolates. Eccentrically English yet never eschewing the exotic, he lays on a tempting menu all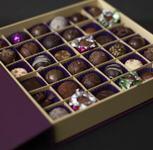 year round. So at Yuletide one rightfully expects great things. A bijou box containing his finest seasonal selections hitting the doormat is more welcome than any advent calendar, and, in the spirit of festive gluttony, is scoffed in its entirety that very teatime.
First, a slightly salty, crunchy, roasty, toasty mixed nut cluster in the vein of a Ferrero Rocher. Except you don't feel this ambassador's ripping you off with his'spoiling'. To wash it down, mulled wine- but in truffle form, with the fruity, soft-set boozy ganache encased in a Jackson Pollock-inspired shell. The cigar leaf caramel as a chaser feels as though Grandad's slipped you a Werthers original and a crafty puff on his Cuban, inducing a pleasing warm prickle in the throat.
Cheese is always welcome after dinner, as is a snifter of port- but in a truffle? Really? Yes. Paul's Stilton ganache has a fudgy grain and a salty savour, softened and sweetened by the port's red fruit. Those fruits persist as I move not-too swiftly on to an intense, rich 85% raw Ecuadorean specimen dusted with bitter cocoa. Beneath its cacoa-nib-crusted shell, the 'Aztec Emperor' sweetens things up rapidly- the truffle's caramel-ly ganache tasting of gingered lebkuchen and German Christmas markets.
There's more ginger flavouring the sugar coating the next sphere, heightened with a splosh of ginger wine in a ganache husky with black cardamom. Paul's obviously partial to this unusual spice, because it occurs again as part of the 'Crackling Embers" confounding cacophony of tastes. There's the cardamom's smoke and leather, the exotic aromats of sandalwood, and the intriguing dual heats of chilli and tobacco. It's perhaps the most aptly-named chocolate ever.
And, of course, it would be simply rude not to tuck one of those glossy black shells brimming with more of that Werthers-eqsue soft caramel, salted this time, into any Paul A Young collection. Words may fail me, but the gloopy grin spreading across my mush speaks volumes. I'd happily nosh this lot any time of the year. But at Christmas, savoured in front of a blazing fire, afforded the quiet contemplation rightfully deserved, this tiny box of treasures really comes into its own.
The Christmas collection truffles are priced from £2 for a single chocolate, up to £65 for a 42 piece selection box.
For more information on Paul A Young and stockist details visit www.paulayoung.co.uk