I've got a bad habit of not doing things if there's plenty of time to do them. I worked within the shadow of the Monument (did you know that it's exactly as tall as it is far from the start of the Great Fire of London? You did? I'll move on) for five years, and despite fully intending to go up it, I never did. Similarly, when I worked in Canary Wharf, I kept hearing about a smashing pub in Docklands called the Gun. And despite working there for eight years, did I go to the Gun? Take a guess. So when the chance came to go to there, or to be specific, it's outdoors incarnation, A Grelha, it was a must-do, particularly as it's a summer-only venue, so on a dry but frankly brisk summer's evening, we took ourselves there.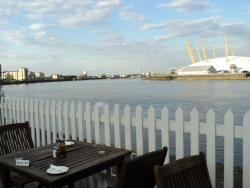 A Grelha at the Gun is on huge patio and entirely al fresco, and on the north bank of the Thames, which shimmers soothingly, but restlessly just a few feet away; the O2 opposite is similarly restless, and attractive in its own way. Named after a Portuguese grill, A Grelha specialises in, yes, Portuguese food (and drink), and fresh-as-a-daisy seafood; Billingsgate is a matter of minutes away, after all, and a daily shopping trip there provides the specials, as listed on hard-to-miss blackboards. A had decided pretty much immediately to have something from the specials, but other than that, we settled down with the menus and a welcome glass of wine. For starters, we wanted to share, and went with the baby squid with garlic, coriander and chilli, and king prawns sautéed in chilli and garlic. Of these, the king prawn dish was more my thing; plump, juicy and perfectly cooked, the prawns were enhanced by the heat and depth of the garlic and chilli. The baby squid was good, but I do find curled up tentacles a little off-putting. I try not to be picky, but if it looks like something from Alien, it doesn't really appeal. Still, I had some of the rings, and they were super, well-seasoned and with a pleasingly creamy texture.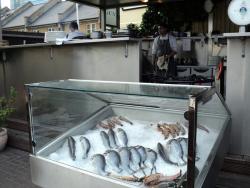 For mains, I went with the regular menu and had the chicken piri piri, which I was told was quite spicy, but could also come with extra hot sauce, well, why not, I had a glass of chilled wine on standby. The chicken was half a bird, chopped into chunks, bold and rustic looking. It was very tender, and tasty but not overly spicy for my taste. The extra hot sauce was a small, unopened, bottle of the stuff, which I had to try (albeit with some trepidation), and yes, it was hot, but not eye-wateringly so; it had what I thought was a raw quality, which was potent, but rather good. The chicken came with chips, which were nicely cooked, crispy on the outside and fluffy inside – I liked them with the extra hot sauce. A had sea bass, and was inordinately pleased to be served the whole thing. Personally, I'm never thrilled by this, I always seem to end up with dead eyes staring up at me, but I appreciate that it makes for a generous portion. The fish itself was excellent, perfectly cooked, and appealing presented, with new potatoes as an accompaniment. The mains came with a big bowl of salad, which was lovely, but a little more than we could cope with.
The Portuguese flavour continued into dessert; A had the pastel de nata, which upon ordering he told me was custard tart, and therefore a Very Good Thing. Now, I like custard. I like tarts (stop it). But custard tart? Just wrong, and I didn't want a bar of it. But up it came, and it looked rather good, actually, it looked lovely, so I did a swift 180 and tried some; it was delicious. The tart base was more puff than short-crust, and the filling was creamy, light and smooth; it was a winning combination. I had the ice-cream, three flavours, all made at A Grelha; vanilla, strawberry and raspberry. Of these, we both found the strawberry and vanilla to be the best; both intensely flavoured, and the strawberry had a welcome tang to it. Raspberry was quite delicate; it had good flavour, but was a little timid by comparison to its companion flavours.
Wines at A Grelha are primarily Portuguese, with a good selection, including several by the glass. We started off with the Fontanario de Pegões , which was crisp, refreshing and perfect for the surroundings – so we stuck with it for the evening, and it went very well with everything.
Service at was spot-on, the staff were on the go the whole time, and we were looked after extremely well. We found the whole evening relaxing and very enjoyable, and perhaps more so because, let's face it, British weather means that outdoors eating is a rare pleasure. And okay, by the end of the evening, we were feeling a little chilly, there are patio heaters, but patio heaters are for wimps, so we determined to tough it out. Still, next time – and there will be a next time – I'll take a jumper. A Grelha will only be open Wednesday to Sunday until September, so make the most of it while it – and the summer, such as it is – are here.