March 27th is Holi, that bright riot that is India's most colourful festival, and all three of Vivek Singh's Cinnamon restaurants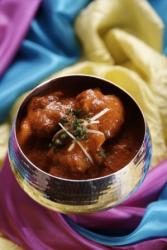 are planning celebrations more technicolour than Joseph's gaudy Dreamcoat. In keeping with the Holi spirit, the menus celebrate spring's arrival with a rainbow of new recipes and a few colourful cocktails.
Karl Lagerfeld-channelling colour curmudgeons won't be happy – in order to claim a free drink, you'll need to bowl along in blue to Cinnamon Kitchen; be pretty in pink at Cinnamon Soho; and go green at The Cinnamon Club. Mind you, once you've ripped into a few vodka-laced Rangeelas ('colourful'), your vision could well resemble a glorious clashing kaleidoscope anyway.
At The Cinnamon Club, Rakesh will be rustling up courgette flowers with tamarind-glazed veggies and Chettinadu mutton. Abdul's Cinnamon Kitchen is going with lotus stem korma, green pea parathas and a selection of sweetmeats; at Cinnamon Soho, Raju's team will be chargrilling prawns and smoking Cumbrian lamb. Sounds like a Holi good night out to us.
The five-course Holi menus are running from 18th – 30th March, and cost £50 at The Cinnamon Club, £38 at Cinnamon Kitchen, and £35 at Cinnamon Soho. For more information and to book, visit www.cinnamonclub.com, www.cinnamon-kitchen.com, http://www.cinnamon-kitchen.com/soho-home