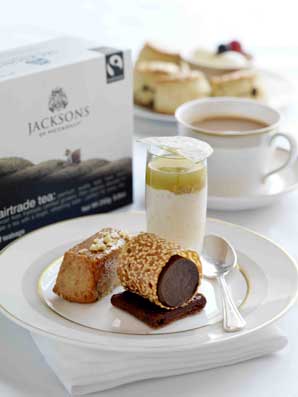 Try to get a table for afternoon tea in the capital and you better be quick off the mark. Our charming afternoon tradition of taking tea with sandwiches, scones and dainty pastries has become de rigeur. It may feel decadent in these uncertain times, but afternoon tea is lighter on the wallet than dining out in the evening … and is now lighter on the conscience.
Tea-takers at The Connaught can look forward to a choice of delectable pastries made usingFairtrade ingredients, including Fairtrade rice, banana, sugar, lemons, chocolate and Fairtrade tea -Jacksons of Piccadilly's, of course – all expertly crafted by The Connaught's Head Pastry Chef,Johannes Bonin. The NEW Jacksons of Piccadilly Fairtrade Coffee from Columbia will also be served in Fairtrade coffee individual tarts – delicious, and ethical.
Today, there is an increasing awareness of our need to source responsibly. Jacksons of Piccadilly, thequintessentially British tea company, does exactly that with its range of premium quality Fairtrade teas, which help disadvantaged growers and workers in the developing world get a better deal.And tea itself remains firmly at the centre of this comforting afternoon ritual. Jacksons of Piccadilly's Fairtrade Mainstream Tea is a delicious, refreshing, ethical everyday tea blend, perfectly suited to the occasion. Or – for the experimentally minded – a selection of the delicately flavoured Jacksons of Piccadilly Fairtrade green teas and the pure-tasting Fairtrade single origin speciality teas will also be on offer.
The Connaught has recently relaunched after a stunning restoration, creating a discreetly elegant hotel and dining experience for genuine connoisseurs of luxury, including the celebrated 'Hélène Darroze at the Connaught' restaurant, and the chic, new David Collins Connaught Bar.
The Connaught in 2008 is a warm, glowing, stylish place to be; perfect to take time during the frenzy of the working day to meet friends and colleagues over a pot of something dark, fragrant… and ethical.
The Jacksons of Piccadilly Fairtrade Afternoon Tea is available at the Connaught's Espelette conservatory restaurant throughout Fairtrade Fortnight 2009 (23 Feb – 8 Mar) at £38 per person.
The Connaught – Carlos Place, London, W1K 2AL www.the-connaught.co.uk, 020 7499 7070
The Jacksons of Piccadilly Fairtrade Afternoon Tea will be available as a limited edition menu at London's celebrated hotel The Connaught 8 March 2009.Those in the know can enjoy this revived teatime treat (tearooms are reporting a 30 per cent rise in business from this time last year) in the knowledge that they are helping to support those less privileged than themselves.
Jacksons of Piccadilly Fairtrade Afternoon Tea Menu at The Connaught
Finger Sandwiches
Scones with Jam and Cream
Mignardise
Éclair with a light cream flavoured with Jacksons of Piccadilly Fairtrade Tea
Fairtrade coffee individual tart, with Jacksons of Piccadilly Fairtrade Coffee
Fairtrade lemon cream tartlet topped with Fairtrade lemon zest
Moelleux
Individual sponge cake with Fairtrade banana and cinnamon
Carrot cake with a Fairtrade lemon icing
Individual Fairtrade chocolate cake with sesame seed nougatine
Shot Glass
Rice pudding verrine with Fairtrade rice
A selection of Jacksons of Piccadilly Fairtrade Teas
The Jacksons of Piccadilly Fairtrade teabag range is available at major supermarkets, RRP £1.49 per
pack for the Green Teas, £1.99 for the Black Teas and £2.19 per pack for Mainstream Tea (at the same price as
the previous non-Fairtrade range).