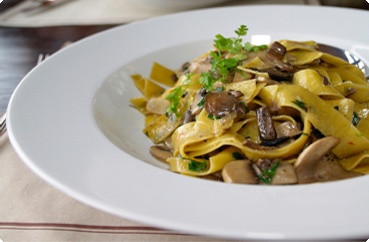 Italian restaurant Al Volo has opened its doors to the evening crowd offering its refreshingly simple interpretation of Italian food to London's contemporary East End crowd. Located in the heart of London's trendy Spitalfields Al Volo is a hidden gem and has long been a lunchtime favourite of both city workers and Shoreditch fashionistas alike.
Al Volo's authentic menu combined with a contemporary atmosphere is a welcome change from Italian chain restaurants that have populated London in recent years. Fresh pasta is the focus and is hand made on the premises daily. A meal at Al Volo sets itself apart and offers something unique, fresh, simple and affordable, as Italian food at its best should be, in a relaxed and buzzing environment.
Chef Antonio Tonelli and his team have hand picked a mix of regional recipes using only the finest ingredients; as well as fresh pasta Al Volo's menu has a huge selection of classic antipasti, wonderful salads, excellent pizzas and popular daily meat and fish specials.
Co-owner of Al Volo, Marco Bortolotti says, 'The Italian way of life is a belief that food nourishes your soul so we are delighted to open our doors to customers in the evening so they can come feed their spirits. We believe that our fresh pasta enjoyed in the fresh look of the new Al Volo represents a unique interpretation of Italian dining on the London restaurant landscape."
Located in The Old Truman Brewery, Al Volo attracts a creative hub of fashion designers, artists, architects and DJs, contributing to the cheerful and welcoming atmosphere. Open throughout the day you can enjoy a relaxing breakfast, a brief lunch or a laid back dinner and they also offer a lunchtime delivery service for the City area. For more information on Al Volo and to view their menus please visit www.alvolo.co.uk or call 020 7377 0808.