25 Oxford Street, London, W1D 2DW | 0207 287 5953 |www.innnoodle.co.uk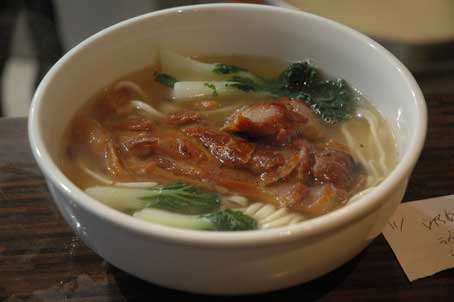 Even before the credit crunch (or 'recession' as we old financial experts still refer to a lack of employment, rising prices and general despair) there was a need for restaurants that delivered well-priced food served without fuss and at some speed. For many people, and I suppose that means young people, food is only a part of the evening, the start and not the main attraction. For them Inn Noodle is just the way to go.
It's located in an unusual place, most shops down at this end of Oxford Street are unlovely mobile phone pushers, tatty clothes retailers, laughable leather goods etc. Inn Noodle is bang opposite what used to be Virgin, the best record store in the UK, now owned by someone else and which seems to be going down faster than Richard Branson in a lead balloon. You could argue that Noodle Inn belongs in Chinatown but the savvy owners have spotted that in this spot they can stand out from the crowd.
The crowd actually tends to gather outside, watching the chef pull his noodles. Perhaps I should rephrase that; watching chef create fresh noodles in the ancient way of kneading and stretching the dough back and forth between his hands. It's fun to watch but it's even better to eat. Inside the décor is basic but not unpleasant and seeing the cooks working at the front is reassuring. The menu uses pictures as well as words, which is not something La Gavroche is thinking of doing any time soon but wouldn't it be a good idea? I do get annoyed when a dish is said to feature, say, aubergines but what it arrives all I can see is a smear. A picture would manage my expectations. Here it helps manage the fact that large portions of the clientele are from all over the world and the 'point and choose' system makes things easier all round.
I love Shangahainese Gyozas, those pork dumplings that are pan fried to give a crispy golden base and these were perfect, I also love those pork dumplings that have hot soup inside them. You have to eat them whole and risk a burnt tongue because if you bite them in half your dry cleaning bill will be horrific. Here they also serve a rather good 'pizza', a small disc of dough crusted with toasted sesame seeds and with a filling of spring onions. Also good were the Siew Mai with perfect thin wonton skins and a mix of pork and prawns within.
It was noodles we came for though, a big steaming bowlful of La Mien with shredded chicken and shrimp had heat and spicy/sour flavour in ladle-fulls. There are over ten noodle soups to choose from but one is enough for most people's appetite. We also liked the Seafood Fried La Mien, which had cooked noodles tossed in a mix of prawns and squid.
With a tablecloth looking like a war zone and a shirt looking like one of Sir Les Patterson's I called a halt and went for dessert. Red Bean Paste Puffs had that odd but quite addictive flavour red bean always has surrounded with a light puff dusted with icing sugar.
In and out in no time and with wallets intact we noticed plenty of local Chinese going large on the menu so Inn Noodle is far from being a tourist trap. Tasty food, authentic noodles, quick service and fair prices. No wonder it pulls in the customers as fast as it pulls the noodles.
Nick Harman