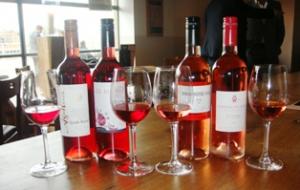 I always think of rosé as a summer drink, so refreshing when sat outside in some nicely shaded area on a warm sunny day with a well chilled glass of pink, droplets of water condensing on the side of the glass – heaven. All Bar One seem to share this view and as part of their launch of this year's rose festival they invited us and others along to a sampling and wine pairing at their Butler's Wharf restaurant opposite St Katherine's Dock in London.
Now, you will probably be aware that I'm not one of those to swoon and go into long lists of verbs/nouns about the complexity of the wine and how it is brought out on the palate, though there is something to be said for it, but I don't think your average wine lover does it each time they open a bottle. I certainly don't, I am usually anticipating the first glug – such an admission. However, wines do have different characters, and describing the main features of those does help when selecting the ideal bottle to drink either on its own or with food.
All Bar One has introduced a selection of eight rosé wines into their wine lists this summer, I understand that this is a one-off distribution to the restaurants and once they are gone, they won't be re-ordered. The purpose of this evening was to introduce us to some food and rosé pairings that Saturday Kitchen's Susy Atkins had selected from the range that are now in All Bar One Restaurants.
For the evening Susy paired the following dishes and wines:
Smoked paprika Panko-Breaded Chicken Fillet with Sweet corn Relish and Tamarind Ketchup was paired with Agustinos Syrah Rosé and it has to be said that this deep pink wine with great fruit notes and slightly acidic clean finish worked remarkably well with the dish.
Mini Fishcakes with Lemon and Chive Crème Fraiche were paired with Primrose Hill Rosé, a more delicate wine that had a good fragrance to it and helped promote the flavours in the food.
Calamari with Roasted Garlic and Chive Mayonnaise paired with Chateau de Sours Rosé, was another good combination the bold red berry fruitiness standing up well to the dish, and
Meat Anti-pasti of Chorizo, Salami, Prosciutto, Parmesan, Caperberries, Gherkins with Ciabatta and Smoked Chilli Jelly paired with El Muro Garnacha Rosé was another success, fruity and zingy it coped well with the platter of meats and cheeses
As I said these wines will be in stock for a limited time only and are available by the bottle, ranging up from £12.95. Once stocks are finished that's it. So if all this appeals to you, why not go along to your local All Bar One this summer and try some?