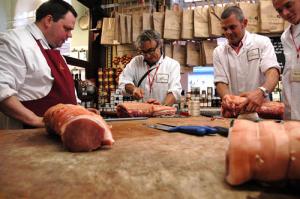 Once a profession very much in decline, traditional butchery is enjoying a welcome revival in recent years, so much so that the BBC has made it a part of their Young Professional of The Year series on BBC3. Young Butcher of The Year featured Justin Preston, Allens of Mayfair co-owner as one of the two expert judges.
Justin is a first hand witness to this revival. The Butchery Classes for Beginners, which he and David House, Allens co-owner pioneered in 2007 have become hugely popular since they launched and are now taking bookings for their 3rd season, starting in January 2010. Indeed, we went on one and found it fantastic.
Allens' Mount Street shop makes the ideal setting for the classes with its huge sides of perfectly marbled beef, fine selection of different game birds and succulent racks and legs of young lamb adorning the Victorian tiled walls and panoramic glass windows. The classes are held around the traditional butchers block for a maximum of five pupils.
The classes are held once a week, every Wednesday from 1pm to 2.30pm and cover the basic preparation of different cuts of meat, taking in anything from cheap cuts (such as oxtail, lamb middle neck, beef featherblade), to roasting cuts. Pupils learn anything from separating different cuts from a whole chicken to trimming fat from various cuts of meat and cutting the perfect steak. Classes are priced at £100 per head and include the different cuts of meat to take home.
To book, please contact Allens of Mayfair on 020 7499 5831 – classes can be booked as gifts, Allens will supply a butchery voucher
117 Mount Street, W1K 3LA Tel. 020 7 499 5831