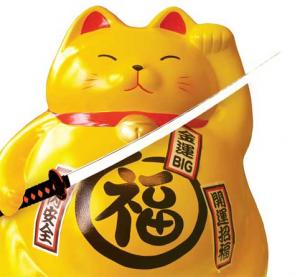 Despite the fact that it refuses to get seasonally cold outside, some restaurants are committed to fighting any sense of chill in the air. Two big Asian chains, YO! Sushi and Wagamama have both announced hot new dishes to tempt us in from sunbathing in the streets.
First we tried YO! Sushi in Poland Street where at lunchtime pretty girls from the fashion and film industry were sitting looking pensive, chopsticking up sushi and reading modern novels with determinedly intent expressions. A party of young Japanese tourists were amusing themselves taking endless pictures of each other and pestering the chefs to take group shots of them, so it was all rather jolly.
Parked on a corner of the famous 'kaiten' conveyor belt I fell into my usual YO! trance of watching the little dishes trundle up and trundle away. It really is most relaxing. J meanwhile had fun with the dinky little water dispensers, which offer fizzy or still. It was only when the waitress rolled up that we snapped back to attention.
Their are five new hot dishes and, feeling it was important to try them all we ordered them all, plus some miso soup, and sat back to wait. After a bit the waiting got boring so we decided to have some sushi from the belt, but the one we fancied had just gone past. Oddly enough it didn't re-appear; it was like watching the carousel at the airport with that dawning realisation that your suitcase has been diverted to Sebastopol. Finally our dish hove into view and we grabbed it. Two bites later it was gone and we were back to aimlessly twiddling our chopsticks. 'Chef's got a lot of orders on' said the waitress spotting me about to do my sticks up the nose comedy routine.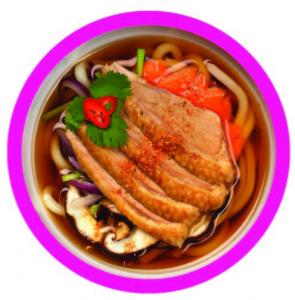 The miso was hot, but not as flavoursome as we expected, rather bland in fact. 'No wonder you can have as much as you like', we said as we chased the little bits of tofu around. Then the soups arrived and we both had a bowl of duck soup given to us. 'Oh, oh,' said J, 'she thinks we actually both want all the dishes!' He was right she did, but we managed to explain the error. It was slightly too late though as chef suddenly reached over with two more bowls, this time of the beef curry soup. We accepted one and he put the refused bowl on the belt where it went round and around for the rest of our meal, glaring at us accusingly each time it passed. I like to imagine that when the lights were turned out it was still there, endlessly doing its sad and silent laps.
Duck Udon Soup – shiitake, carrot, onion and udon noodles in dashi broth with coriander and red chili was fatty, but that's duck for you. The broth had some bite, but, apart from when J choked on the only piece of chilli in his, wasn't all that fiery or all that flavoursome. The big noodles were as slippery as eels and took some catching. We moved on to the Beef Curry Udon Soup -beef, carrots, onion and udon noodles in curry broth with beni shoga (red pickled ginger). This had cheap cuts of meat, brisket I suspect, but that's pretty authentic. The curry tasted of 1970's curry powder, which, I've been told, is how the Japanese like it. Spoon halfway to mouth, I drifted off Proustianally, back to mum's 'exotic' dinners eaten in front of our new colour telly. Reginald Bosanquet was leering at Anna Ford suggestively, while reading the news half-cut.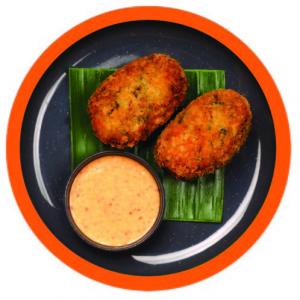 'Wake up!' said J shaking me, 'prawns ahoy!' Indeed cheffy was leaning over the belt with Prawn Korroke – Crispy Japanese breaded prawn and potato croquettes with kimchee mayonnaise. We liked these a lot, the croquettes were crispy outside and melting within and dunking them on the mayonnaise was fun. Kimchee is, of course, Korean and is normally very powerful. This wasn't. A bit more kimchee in the mix would be a good idea.
Mushroom Kara Age – crispy coated shiitake, oyster and shimeji mushrooms marinated in soy, mirin, dashi served with vinegar soy was unusual, a sort of 'guess the mushroom' game. You know the way your common garden objects become strange and unrecognisable under a heavy blanket of snow? That's how this was. Basically cheffy had put a bit too much batter on and not cooked the result enough and so, ghostly white, some of the mushrooms tasted of raw flour. Soaked down in the vinegar soy though, they perked up. Quite a difficult dish for a place like YO! to get right and one that I think they need to practice a bit more.
Finally last, and inexplicably not first, Garlic Pepper Edamame -soy beans with garlic soy, black pepper and shichimi chilli powder. We got into a right state with these because they were very addictive but also very sticky. Squeezing the pods, (fnarrrr!), covered our hands in sauce and the single napkin supplied was soon a sodden mess. Time to go back to work.
At £4.50 a bowl the hot soups are hot, filling and good value but both need a bit more spicing up – basically if my nose aint running, they aint working. The prawn croquettes are great and the mushrooms are ok, but could be better with some work. The beans should be served first to keep people happy while the other dishes are cooked, and more napkins supplied to save me wiping my hands on J's trousers in desperation.
This is 'Kill Chill Volume 1' (did you see what they did there?) and is available at all restaurants (except YO! Sushi Heathrow T3 and YO! Sushi Selfridges London) until 31st December 2009.