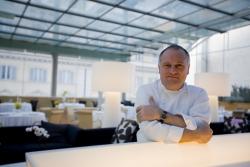 On September 27th the world famous Italian restaurant Antonello Colonna is taking over the kitchen at the Brunello Restaurant at the Baglioni Hotel. They'll be showcasing a remarkable tasting menu that's been devised by Chef Colonna himself.
Antonello Colonna is the third guest chef this year to make an appearance at Bonello as part of their celebration of fine Italian cooking.
The Antonello Colonna restaurant started off in 1874 in a small village near rome and from these humble beginnings it soon became famous for the sheer quality of its home cooked meals.
In 1985 Chef Antonello Colonna took over the restaurant and oversaw a gastronomic revolution almost immediately. Rome's Gorurmands were impressed by his modernisation of rustic Italian country cooking and flocked there to enjoy the food.
'Simple, elegant, refined yet at the same time relaxed' is the phrase used to sum up the success of the Antonello Colonna restaurant and it's with this in mind that Chef Colonna has created his ultimate tasting menu for the 27th September at the 5 star Baglioni Hotel.
Dishes on the menu include Salt-cod connolo with sour cream, caviar and candied lemon, Carbonara inside out and Custard and chocolate diplomatico with salt caramel.
To make a booking for the dinner on Monday 27th of September 2010 contact reservations on 020 7368 5900.